Royal Wedding 1981 Stamps
These Post Office stamps were affixed to specially designed envelopes and postmarked on the first day that the stamps were issued.
22.07.1981 | Signed by Emminent Religious Persons, Postmarked at London
BUY NOW   £400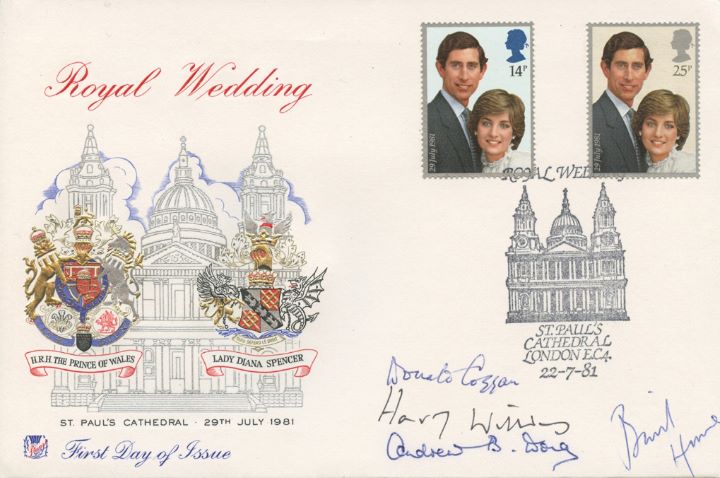 Click on image for larger view
Stamp Details:

14p
25p Portrait of Charles & Diana


Notes:

Lovely die-stamped embossed design. Cover signed by Donald Coggan (Ex Archbishop of Canterbury); Andrew B. Doig (Moderator of the Church of Scotland); Harry Williams (Dean at Trinity College during Prince Charles's stay); and Basil Hume (Archbishop of the Roman Catholic Church). I have never seen all four signatures before on the one first day cover. This could be the only one in existence with these signatures. Comes with letter of authenticity.

Stock remaining:

One Left!

Reference Images:
Commemorative Stamp
Presentation Pack (127A)
PHQCards (53)
Postmark illustrations

Why not take a look at other items on a similar theme?