Terry & June Stamps
01.08.1989 | Seaside Anniversary, Postmarked at Weymouth
BUY NOW   £245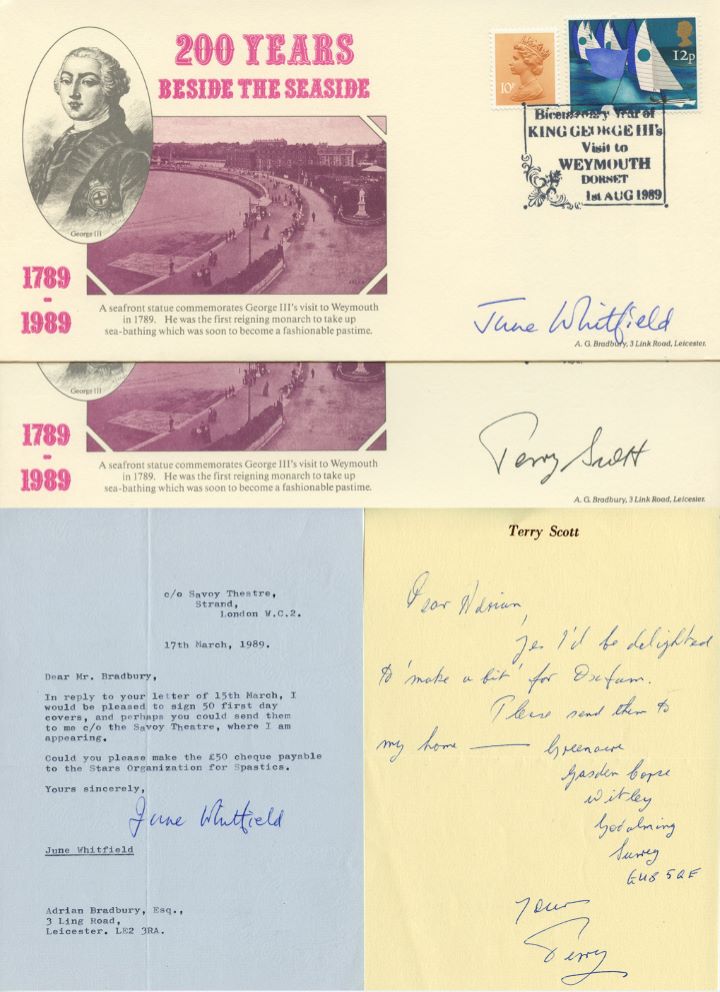 Click on image for larger view
1st August

1989

- Terry & June

Limited Edition:

1 copies Worldwide.

Notes:

These covers were signed by June Whitfield and Terry Scott who co-starred in the 1980's sit-com 'Terry and June'. This is a 'one off' item with the correspondence from both actors. These were not numbered on the reverse, but only 50 of each exist. Terry Scott and June Whitfield starred as a middle-aged, middle-class suburban couple, Terry and June Medford, who live in Purley. Terry and June first aired on 24 October 1979, running for a total of 9 series and 65 episodes, (including four Christmas Specials). The last ever episode aired on 31 August 1987. I am sure many of you will remember this very funny sit-com. PLEASE NOTE THAT NO DISCOUNTS ARE AVAILABLE FOR THIS STOCK CODE

Stock remaining:

One Left!

Cover is on Offer:
Available in the auto60 offer.
Why not take a look at other items on a similar theme?