Doctor Who Stamps
These Royal Mail stamps were affixed to specially designed envelopes and postmarked on the first day that the stamps were issued.
26.03.2013 | The Doctors Nos. 7 - 11
BUY NOW   £75.00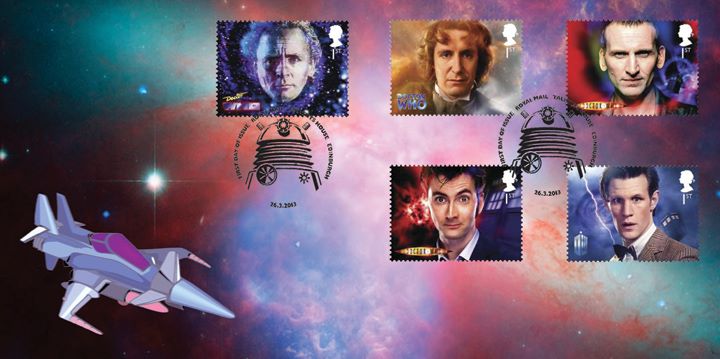 Click on image for larger view
Stamp Details:
1st Second Doctor Patrick Troughton
1st Third Doctor Jon Pertwee
1st Fourth Doctor Tom Baker
1st Fifth Doctor Peter Davison
1st Sixth Doctor Colin Baker
1st Seventh Doctor Sylvester McCoy
1st Eighth Doctor Paul McCann
1st Ninth Doctor Christopher Eccleston
1st Tenth Doctor David Tennant
1st Eleventh Doctor Matt Smith

Limited Edition:
200 copies Worldwide.
Notes:
This exclusive design is printed on the best quality textured linen paper and then hand made into envelopes.
Why not take a look at other covers on a similar theme?
| | | |
| --- | --- | --- |
| Radio & TV | Space & SciFi | Doctor Who |