Battle of Britain Stamps
These Post Office stamps were affixed to specially designed envelopes and postmarked on the first day that the stamps were issued.
13.09.1965 | Fighter Pilot in Cockpit, Postmarked at Scarborough
BUY NOW   £75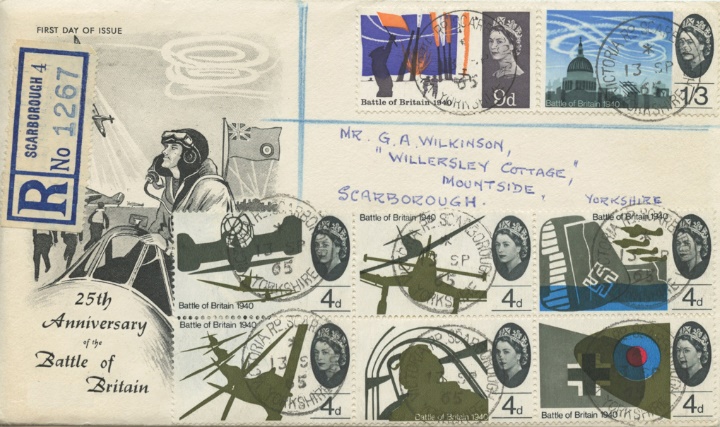 Click on image for larger view
Stamp Details:

4d Hurricane
4d Wing Tips
4d Spitfires and Heinkel
4d Spitfire and Stuka Dive-bomber
4d Hurricane and Wreck of Dornier
9d Anti-Aircraft Artillery
1s 3d Air Battle over St. Paul's


Notes:

Scarborough suffered during World War II - 1378 buildings were damaged or destroyed - Scarborough's worst air raid of WW2. 98 German planes dropped high explosive parachute mines on the town around 9pm. Some were delayed action bombs that went off later. 28 civilians and military people were killed and many hundreds injured.

Stock remaining:

One Left!

Reference Images:
Commemorative Stamp
Presentation Pack

Why not take a look at other items on a similar theme?