Christmas 1967 (3d & 1/6d) Stamps
These Post Office stamps were affixed to specially designed envelopes and postmarked on the first day that the stamps were issued.
27.11.1967 | Religious paintings, Postmarked at Bethlehem
BUY NOW   £95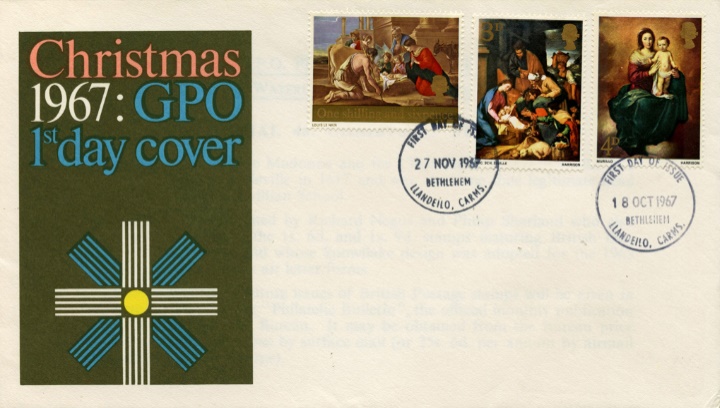 Click on image for larger view
Stamp Details:

3d
1s 6d 'Adoration of the Shepherds'


Notes:

This was an unusual issue in that the 4d stamp was issued on the 18th October, with the other two values issued on 27th November. Initially the GPO would not allow both postmarks on the one cover, but then relented. This caused some confusion at the time, making the double dated covers much rarer than the pair of covers. This cover is also unaddressed and in pristine condition - now a RARE cover.

Stock remaining:

One Left!

Reference Images:
Commemorative Stamp
Presentation Pack (PPPack 11)
Postmark illustrations

Why not take a look at other items on a similar theme?