Liverpool & Manchester Rly Stamps
These Post Office stamps were affixed to specially designed envelopes and postmarked on the first day that the stamps were issued.
12.03.1980 | Railway Crest of Arms, Postmarked at Rainhill
BUY NOW   £150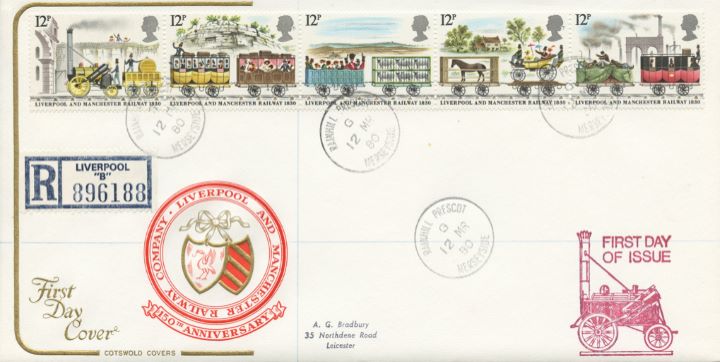 Click on image for larger view
Stamp Details:

12p First & Second Class Carriages
12p Third Class Carriage and Sheep Truck
12p Horsebox and Carriage Truck
12p Mail Coach & Goods Truck


Notes:

The Rainhill Trials were an important competition in the early days of steam locomotive railways, run in October 1829 for the nearly completed Liverpool and Manchester Railway. Five engines competed, running back and forth along a mile length of level track at Rainhill, in Lancashire - making this postmark really relavant. A rare cover and in pristine condition.

Stock remaining:

One Left!

Reference Images:
Commemorative Stamp
Presentation Pack (116)
PHQCards (42)
Postmark illustrations

Why not take a look at other items on a similar theme?