Christmas 1995 Stamps
These Royal Mail stamps were affixed to specially designed envelopes and postmarked on the first day that the stamps were issued.
30.10.1995 | Robin Day, Postmarked at York
BUY NOW   £125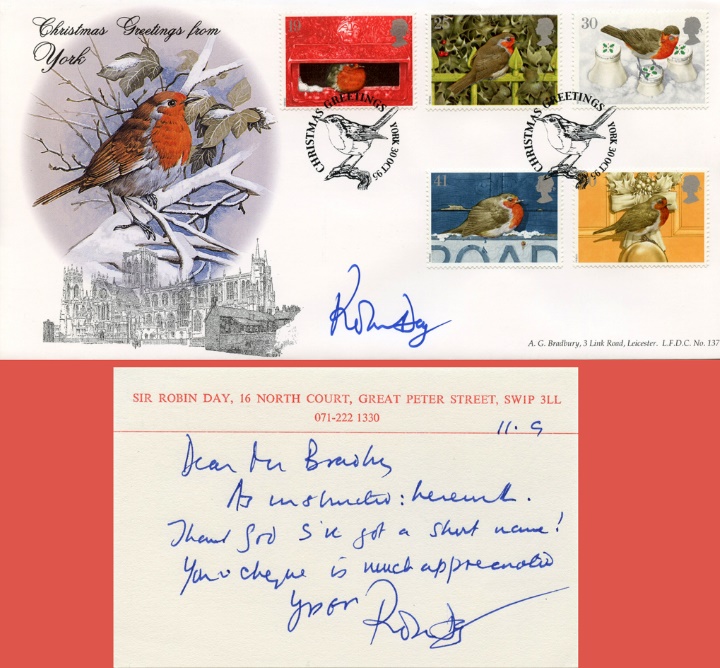 Click on image for larger view
Stamp Details:

25p Robin on Railings
30p Robin on Milk Bottles
41p Robin on Road Sign
60p Robin on Door Knocker


Limited Edition:

1 copies Worldwide.

Notes:

During a 20 year period (roughly 1985 to 2005) I arranged for lots of famous people to sign limited editions of my covers. In return, I made donations to their favourite charity. In most instances I kept No.1 of each numbered edition plus any correspondence. Having now reached semi retirement, I intend to offer the more interesting items for sale.
This cover was signed by Sir Robin Day,
an English political journalist and television and radio broadcaster.
Day's obituary in The Guardian stated that he was "the most outstanding television journalist of his generation".What could therefore be a better signature for Christmas Robins than this cover signed by Sir ROBIN Day


Stock remaining:

One Left!

Reference Images:
Commemorative Stamp
Presentation Pack (262)
PHQCards (175)
Postmark illustrations

Why not take a look at other items on a similar theme?