Queen's Stamps: £1 Coronation Stamps
These Royal Mail stamps were affixed to specially designed envelopes and postmarked on the first day that the stamps were issued.
23.05.2000 | 1953 Coronation Throne Room, Postmarked at London
BUY NOW   €73.20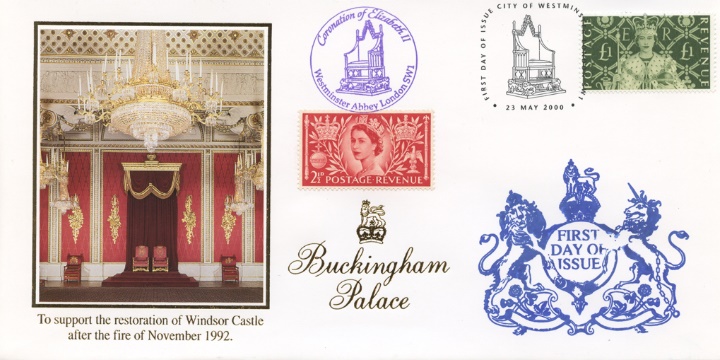 Click on image for larger view
Stamp Details:

£1 (Reprint of 1/3d Coronation stamp)

Notes:

This cover was originally issued to raise funds after the devastating fire at Windsor Cover. I was commissioned to supply covers by the Palace souvenir shop. I had a few of the covers remaining which I subsequently used for various projects. The covers are gold foiled and feature The Throne Room. The £1 green Coronation stamp is a Royal Mail reissue of the 1/3d stamp issued for the 1953 Coronation - same design but different denomination

In Stock

Reference Images:
Commemorative Stamp
PHQCards (PMS03)
Postmark illustrations

Why not take a look at other items on a similar theme?