Christmas 2007 (Madonna) Stamps
These Royal Mail stamps were affixed to specially designed envelopes and postmarked on the first day that the stamps were issued.
06.11.2007 | Madonna and Child, Postmarked at Bethlehem
BUY NOW   £20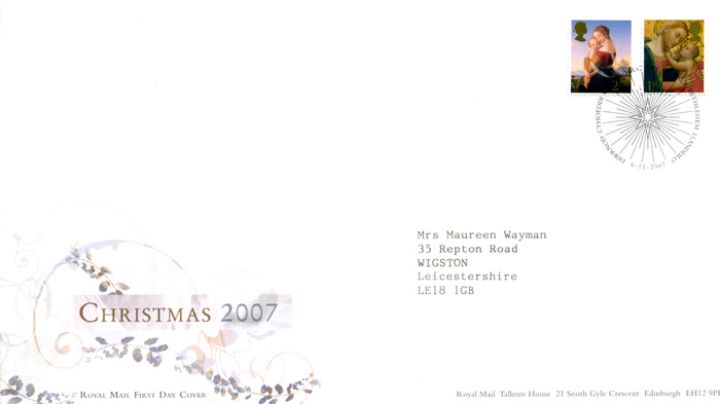 Click on image for larger view
Why not take a look at other items on a similar theme?
Royal Mail provided background information for this issue
click on titles to view details.
Stamp design and Background
The two Madonna and Child stamps, originally issued in 2007, are again available, and will be available every Christmas until further notice. These definitive-sized stamps feature two classic paintings of the image: The 2nd Class Madonna and Child painted by William Dyce, and The Madonna of Humility, by Lippo di Dalmasio, on the 1st Class stamp.

2nd Class - Madonna and Child, William Dyce, c. 1827. In pearly light, the sweet faced young Madonna cradling her child before a limpid landscape, clearly shows the influence of Renaissance art, particularly of the young Raphael. Dyce led the way and in turn became a supporter of the radical group of young English painters, the Pre-Raphaelites.

1st Class - The Madonna of Humility, Lippo di Dalmasio, c. 1390-1400. Extensive damage and centuries of repairs have dimmed but not eclipsed the grace of The Madonna, crowned with 12 stars, against a disc of golden light, recalling Saint John's vision of the Woman of the Apocalypse, "clothed with the sun", in the Book of Revelation.
Mint Stamps - Technical Details:
| Feature | Type/Detail |
| --- | --- |
| Number of stamps | Two |
| Formatting | Peter Willberg |
| Typography | Peter Willberg |
| Illustration | Madonna and Child by William Dyce © Tate Collection, London; The Madonna of Humility by Lippo di Dalmassio © The National Gallery, London |
| Stamp format | Portrait |
| Stamp size | 20mm x 24mm |
| Printer | De la Rue Security Print |
| Print process | Gravure |
| Number per sheet | 50 |
| Perforations | Kiss die-cut simulated perforations |
| Phosphor | bars |
| Gum | Self adhesive |
Text © reproduced with the permission of Royal Mail Group Ltd. All rights reserved.