High Speed 1
25801 | 20.10.2007 |
£19.99
Printed by Royal Mail. Designed by Adrian Bradbury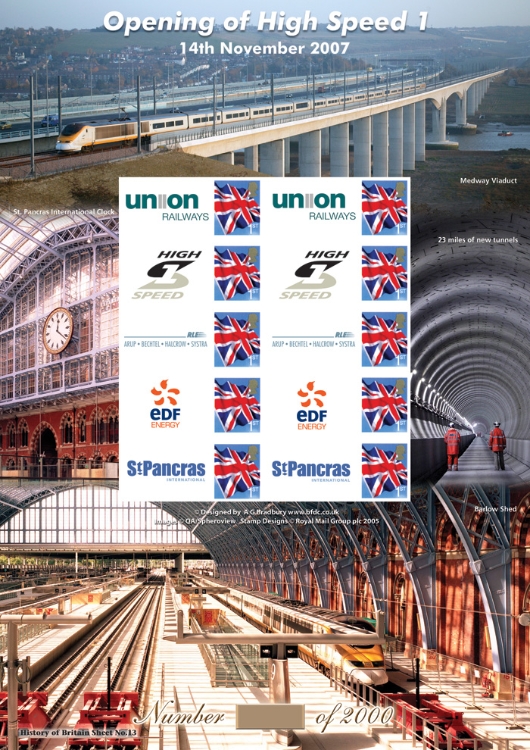 Click on image for larger view
Issue:
High Speed 1 Stamp Sheet (Smilers®)
The sheet is limited to 2000 numbered copies.
In the time that it takes to have a long lunch, you could have crossed the English Channel to sip hot chocolate with Poirot's aunt beside the tinkling 'Manneken-Pis', or to chew snails to the hearty refrain of the accordion within a frog's leap of the Eiffel Tower. This refers, of course, to the UK's first new train line in a century: St Pancras to the Continent at 186 mph - Brussels in under 2 hours; Paris in 2 hours 20 minutes.

14 November 2007 is another in a long line of firsts for St Pancras, since this is the date when the first Eurostar train will leave Europe's first destination station for the Channel Tunnel, making it in just 35 minutes - half the time of the previous Waterloo route.

In its Victorian heyday, St Pancras boasted the world's largest train shed - famously named after its creator, William H Barlow, Engineer-in-Chief to the Midland Railway. Back in the 1860s, the Barlow Shed was considered a true engineering wonder: standing at 105 feet high, 240 feet wide and 690 feet long, it was the largest single-span enclosed space in the world.

The Channel Tunnel Rail Link (CTRL) project has expended great effort in blending the new with the old - in going back to the future - by transforming and extending the Barlow Shed into a contemporary clean glass re-working of its former majesty courtesy of the main contractor CORBER (a consortium of Costain O'Rourke, Bachy Soletanche, and Emcor Drake & Scull). Given that Eurostar's 21st century trains, at 400 metres, are twice the size of typical domestic trains, this has led to doubling the length of existing platforms by way of the Barlow Shed extension, all the while maintaining the integrity of Barlow's original vision.

This has all formed part of the St Pancras restoration project - an initiative which will see St Pancras rivaling New York's 'Grand Central' in terms of destination station status. People will want to spend time at St Pancras rather than just pass through. They will want to enjoy the longest champagne bar in Europe, as well as sample the range of brasserie and haute cuisine restaurants available. They will want to browse through the station's many shops, as well as amble around its market area offering fresh produce and flowers amongst a whole array of other choices. Not to mention the 5-star Marriott Hotel which will revitalise the magnificent Grade I Gothic-style Chambers building, designed by Sir George Gilbert Scott to house the memorable Midland Grand Hotel and which has lain slumbering since its closure in 1935. All this from a railway station, over and above facilitating the travel plans of some 50 million passengers every year - approximately 15 million more, per annum, than Gatwick.

Quite rightly, St Pancras International Station is the brightly shining jewel in the crown of a project that has employed 8,000 people from all over the world and was started just nine years ago, since when 68 miles of new high speed track has been built, encompassing: 23 miles of tunnel; three international railway station developments (St Pancras, Stratford and Ebbsfleet); 2.5 miles of elevated track and major bridges across principal waterways, including the Medway Viaduct which is the longest span high speed rail viaduct in Europe at just under a mile (built by the consortium of Morgan Est, Vinci and Beton und Monierbau); as well as 152 bridges and structures constructed in a wide variety of ground conditions.

The achievements on this project are endless, all completed in less than a decade since London & Continental Railways (LCR), through its client team Union Railways, appointed Rail Link Engineering (RLE) consortium consisting of Arup, Bechtel, Halcrow and Systra who, together, are responsible for the project management, consents, design, procurement, construction management and commissioning of the project. To complement this consortium of international expertise, the LCR shareholder EDF Energy (formerly London Electricity) has built the power supply to the distribution systems linking the whole project together.

As recently as 1980, the only train to run direct from London to Paris was the Night Ferry which took some 10 hours, running one service each way in 24 hours. From 14 November 2007, the Continent will be accessible in little more than two hours via the new 'High Speed One' (HS1) track, with eight Eurostar trains running both ways per hour. Eurostar will provide a 24/7 service with maximised reliability thanks to the innovative 'bi-directional' signalling system that allows trains to switch tracks in the event of malfunction, thereby minimising disruption. In HS1, we are indeed witnessing the emergence of a new railway age.

My thanks go to Kit Kaberry who provided the above text and for all his help with this project.