RMS Titanic: 95th Anniversary
24949 | 20.04.2007 |
£125
BUY NOW
Printed by Royal Mail. Designed by Adrian Bradbury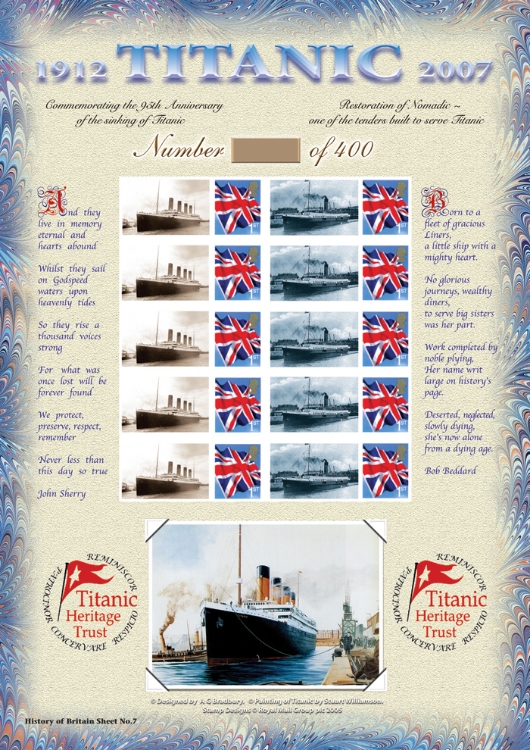 Click on image for larger view
Issue:
RMS Titanic: 95th Anniversary Stamp Sheet (Smilers®)
The sheet is limited to 400 numbered copies.
The Titanic Heritage Trust is the only international charitable trust set up to protect the history and name of RMS Titanic and those connected to it. This sheet has been produced with the full cooperation of the Trust.

The Trust s aim is to Preserve, Protect, Respect and Remember every aspect of the world wide phenomenon which is TITANIC, including the lives lost, the skills used to construct Titanic, and the centralisation of the many artefacts to put on public display.

This sheet also celebrates the restoration of the tender, SS NOMADIC, which was built by Harland and Wolff, Belfast. She was delivered to the White Star Line on May 27. She attended the departure of the OLYMPIC for Liverpool on May 31, 1911, the same day that the SS TITANIC was launched. NOMADIC was built to ferry passengers and freight to and from the White Star Liners calling at Cherbourg, France, which at that time, was too small a harbour to accommodate the massive ocean liners of the day. NOMADIC, with her plush interiors, brought first and second class passengers to TITANIC. On April 10, 1912 NOMADIC sailed out from port to meet TITANIC on her maiden voyage.