Dambusters at War
27475 | 01.09.2008 |
£125
Printed by Royal Mail. Designed by Adrian Bradbury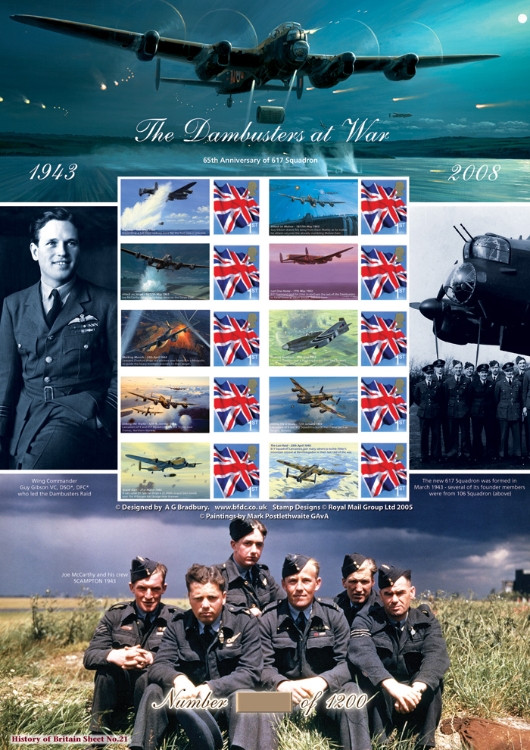 Click on image for larger view
Issue:
Dambusters at War Stamp Sheet (Smilers®)
The sheet is limited to 1200 numbered copies.
This fabulous sheet, featuring paintings by aviation artist, Mark Postlethwaite marks the 65th anniversary of 617 Squadron - The Dambusters.

The sheet border depicts:

TOP Guy Gibson making his first attack on the Mohne Dam 00.28 hrs 17th May 1943.

LEFT Wing Commander Guy Gibson VC, DSO*, DFC* who led the Dambusters Raid.

BOTTOM Joe McCarthy and his crew sit in the sun at RAF Scampton, Summer 1943.

RIGHT The new 617 Squadron was formed in March 1943 - several of its founder members were from 106 Squadron (shown in this picture).

The ten paintings on the labels feature:

Training 12th May 1943
The crews drop a full sized Upkeep mine for the first time in practice. A few are hit by the water splash of the mine hitting the water, causing damage to the Lancasters.

Attack on Mohne 16/17th May 1943
Guy Gibson draws fire away from Dave Maltby as he makes his attack run over the already crumbling Mohne Dam.

Attack on Sorpe 16/17th May 1943
Joe McCarthy drops his Upkeep mine on the Sorpe Dam.

Last One Home 17th May 1943
Bill Townsend and his crew in AJ-O are the last of the Dambusters to head home as dawn breaks behind them.

Marking Munich 24th April 1944
Leonard Cheshire drops red markers over Munich in a Mosquito to guide the heavy bombers precisely to their target.

Marking Siracourt 25th June 1944
Leonard Cheshire uses a Mustang for the first time to mark the V-Weapon site at Siracourt.

Sinking the Tirpitz 12th November 1944
Lancasters of 9 and 617 Squadrons sink the Tirpitz near Tromso, Northern Norway.

Hitting the U-boats 12th January 1945
Lancasters of 9 and 617 Squadrons bomb the U-boat pens at Bergen, Norway.

Grand Slam 21st March 1945
A Lancaster B1 Special drops a 22,000lb Grand Slam bomb over the Arbergen Rail Bridge near Bremen.

The Last Raid 25th April 1945
617 Squadron Lancasters join many others to bomb Hitler s mountain retreat at Berchtesgaden in their last raid of the war.