Eminent Britons Stamps
These Royal Mail stamps were affixed to specially designed envelopes and postmarked on the first day that the stamps were issued.
08.10.2009 | Sherlock Holmes, Postmarked at Edinburgh
BUY NOW   £20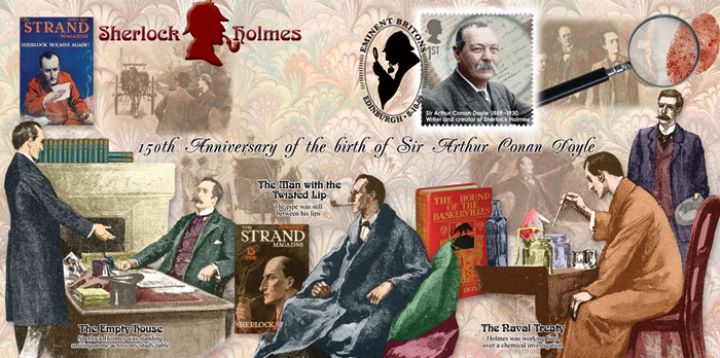 Click on image for larger view
Why not take a look at other items on a similar theme?
Royal Mail provided background information for this issue
click on titles to view details.
Latest News
The ten Eminent Britons stamps have been printed on two separate sheets each featuring five se-tennant designs per sheet instead of the more familiar block of ten. They are available in half sheets (consumer sheets) of 25 stamps and full sheets (gutter pair sheets) of 50.

This is the first time that a ten stamp issue has been printed in this occasional format and will allow us to offer customers vertical strips of five stamps featuring each of the Eminent Britons.

Eminent Britons will be printed in two sheets featuring a se-tenant strip of five stamps. This will create a vertical strip of five of the same stamp design, which may be ordered by mail order.
Reason and inspiration
You wait for one anniversary - then ten arrive all at once! That was the situation when, during its research for the 2009 stamp programme, Royal Mail discovered a number of important, but unrelated, anniversaries from the realms of science, art, literature, politics and sport.

Royal Mail's special stamps are world famous for celebrating those who have made a significant contribution to our great British way of life – so why not bring the Best of British together in one issue?
Stamp design and background
Initial research for 2009 quickly demonstrated that there were many significant anniversaries so Royal Mail set to work assembling a panel of experts, including the writer and historian Adam Hart-Davis, to help select a list of those celebrating birthdays or anniversaries of specific achievements.

Together Design were then commissioned to produce a set of stamps that evoked both the individual and their achievement.

The stamp featuring astronomer Sir Martin Ryle was also selected to represent the 2009 Europa theme of astronomy (2009 is also the International Year of Astronomy).
Stamp by Stamp
1st Class – Fred Perry
Born in Stockport in1909 Fred Perry was World Table Tennis Champion in 1929 before moving on to become World Tennis No.1 in 1934, a position he held five times. He was the last Englishman to win the Wimbledon US Open, French Open and Australian Open Men's Singles. He won Wimbledon, on three separate occasions.
1st Class – Henry Purcell
Born 1659 Purcell was the greatest British composer of the early classical music, incorporating French and Italian elements to create a uniquely British Baroque. His most famous work is Dido and Aeneas considered by some to be the first British Opera.
1st Class – Sir Matt Busby
Born in North Lanarkshire in 1909 Busby initially found fame playing for Manchester City and Liverpool before war service ended his playing career. He is better known for managing Manchester United from 1945 to 1969 guiding the team from the tragedy of the Munich Air crash of 1958 to European Cup triumph in 1968.
1st Class – William Gladstone
Born in Liverpool in 1809 Gladstone was Prime Minister of the UK on four separate occasions. Noted for his fierce rivalry with the conservative Benjamin Disraeli, the Liberal Gladstone presided over many reforms to the electoral system
1st Class – Mary Wollstonecraft
Born in 1759 Wollstonecraft was the author of A Vindication of the Rights of Women in which she argued that women were not born into "softness and gentle compliance" but disadvantaged by lack of educational opportunity. She is regarded as one of the founders of feminist philosophy. Her daughter was Mary Shelley, author of Frankenstein.
1st Class - Sir Arthur Conan Doyle
Born in Edinburgh in1859 Doyle qualified as a doctor but is better known as the creator of Sherlock Holmes about whom he wrote four novels and 56 short stories. Doyle was also prolific author of ghost stories, historical novels and science fiction as well as a keen sportsman who played cricket for the MCC.
1st Class - Donald Campbell
Broke the Water Speed Record in 1959 reaching 260 mph on Lake Ullswater in the Lake District. Equally at home on land and water Campbell broke eight land and water speed records and is the only individual to hold both land and water speed records simultaneously. Campbell was awarded a posthumous CBE in 1967
1st Class - Judy Fryd
Born in 1909. When faced with the problem of finding a place to educate her daughter who had learning difficulties Fryd wrote to Nursery World seeking advice. The response led to her forming the Association of Parents of Backward Children (better known later as Mencap) a campaigning organisation that has achieved a revolution in attitudes towards those with learning difficulties. She was appointed MBE in 1967 and CBE in 1996.
1st Class – Samuel Johnson
Born in 1709, Johnson was a poet, essayist, moralist, novelist, literary critic, biographer, editor and lexicographer. His greatest achievement was his Dictionary of the English Language, first published in 1755 it was the most commonly used English dictionary until the publication of the Oxford English Dictionary in 1928.
1st Class – Sir Martin Ryle
In 1959 the Radio Astronomy Group at the University of Cambridge, led by Professor Sir Martin Ryle, published the Third Cambridge Catalogue of Radio Sources (3C). This was a landmark map of stellar sources and Ryle's work led to confirmation of the Big Bang Theory. Ryle was knighted in 1966 and awarded the Nobel Prize for his work in 1974.
Product Portfolio
Presentation Pack No 433 – Eminent Britons
The fully illustrated Presentation Pack contains all ten Eminent Britons stamps. Inside Nigel Fountain looks at the lives and times of the Eminent Britons. The pack was designed by Together Design and printed by Walsall Security Printers.
Mint Stamps - Technical Details:
| Feature | Type/Detail |
| --- | --- |
| Number of stamps | Ten |
| Design | Together Design |
| Illustration/photography | Fred Perry © Popperfoto/Getty Images, tennis court © Bob Thomas; Henry Purcell portrait licensed courtesy of Naxos Rights International Ltd, sheet music © TopFoto; Sir Matt Busby © Getty Images, football team © PA Photos; William Gladstone © TopFoto, Cannon Street station © Mary Evans Picture Library; Mary Wollstonecraft © National Portrait Gallery, London, with inside page from A Vindication of the Rights of Woman; Sir Arthur Conan Doyle © Getty Images, Conan Doyle manuscript © Stephen Hird/Reuters/Corbis; Donald Campbell portrait and Bluebird © TopFoto; Judy Fryd portrait supplied courtesy of the Fryd family, Coventry School © Getty Images; Samuel Johnson © Getty Images, page from Johnson's Dictionary © English School/Private Collection/The Bridgeman Art Library; Sir Martin Ryle portrait and satellites © The Cavendish Laboratory |
| Stamp format | Square |
| Stamp size | 35mm x 35mm |
| Printer | Cartor Security Printing, Meaucé, France |
| Print process | Lithography |
| Number per sheet | 25/50 |
| Perforations | 14.5 x 14.5 |
| Phosphor | Background screen |
| Gum | PVA |
Text © reproduced with the permission of Royal Mail Group Ltd. All rights reserved.