Plants: Miniature Sheet Stamps
These Royal Mail stamps were affixed to specially designed envelopes and postmarked on the first day that the stamps were issued.
19.05.2009 | Round-headed Leek, Postmarked at Kew
BUY NOW   £40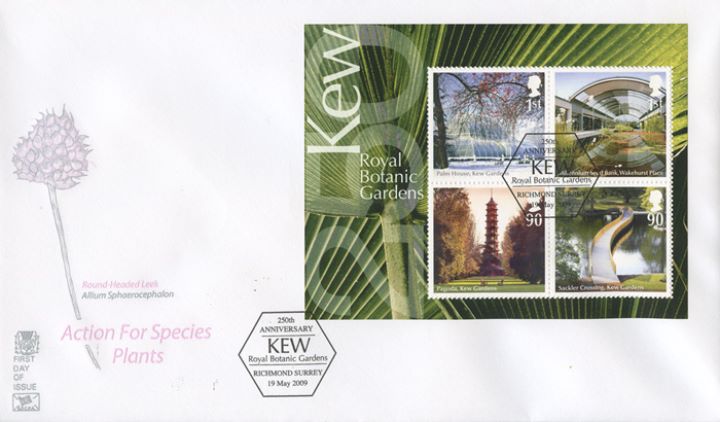 Click on image for larger view
Why not take a look at other items on a similar theme?
Royal Mail provided background information for this issue
click on titles to view details.
Stamp by Stamp
1st Class – Palm House
Built 1844-48 by Richard Turner to Decimus Burton's designs, the Palm House is Kew's most recognisable building, having gained iconic status as the world's most important surviving Victorian glass and iron structure. The site was deliberately chosen to make this great building the focal point of Nesfield's great vistas- and Burton's Broad Walk.
1st Class – Millennium Seedbank
The Millennium Seed Bank Project (MSBP) is the largest ex situ conservation project ever conceived. Its partners will have banked seed from 10% of the world's wild plant species by the end of the decade. These will not be just any plants, but will include the rarest, most threatened and most useful species known to man.
90p – Pagoda
The Pagoda was completed in 1762 The ten-storey octagonal structure is 163 ft (nearly 50 m) high and was, at that time, the tallest reconstruction of a Chinese building in Europe.
90p – Sackler Crossing
Opened in May 2006, this elegant walkway spanning the Lake is the work of London-based architect John Pawson. Its graceful design complements the natural forms of its setting and continues the English landscape tradition espoused in the Royal Botanic Gardens, Kew for nearly 250 years.
Product Portfolio
Miniature Sheet
The Miniature Sheet is made up of four new stamps (2 x 1st and 2 x 90p) featuring some of the landmark buildings at the Royal Botanic Gardens in Kew and the Millennium Seedbank at Wakehurst Place. The border design features a palm leaf.
Presentation Pack No 427 - Endangered Plants (Action for Species 3)
The fully illustrated presentation pack contains the ten Endangered Plants stamps and the Miniature sheet on its own separate designed carrier. Inside Gail Vines the former editor of Plantlife takes a look at the UK's endangered plants and what is being done to help them. The pack was designed by Russell Warren-Fisher and printed by Walsall Security Printers.
Stamp Cards
Fifteen postcards bearing enlarged images of each of the Endangered Plants, the Kew Gardens Miniature Sheets stamps and another showing the Miniature Sheet, go on sale about a week before the stamp issue date. Printed by Fulmar Colour Printing Company Ltd.
Miniature Sheet – Technical Details:
| Feature | Type/Detail |
| --- | --- |
| Number of stamps | 4 |
| Size of Sheet | 115mm (w) x 89mm (h) |
| Design | Kate Stephens |
| Acknowledgements | Pagoda in Kew Gardens © Barry Lewis/Corbis; The Palm House at Kew Gardens in Winter © Richard Bryant/Arcaid/Corbis; Millennium Seed Bank, Wakehurst Place © Robert Bird/Alamy; Sackler Crossing, Kew Gardens © 2009 The Board of Trustees of the Royal Botanic Gardens, Kew; palm leaf border image © Anna Feruglio Dal Dan |
| Stamp format | Portrait |
| Stamp size | 37mm (w) x 35mm (h) Check |
| Printer | Cartor Security Printing, Meacé, France |
| Print process | Litho |
| Perforations | 14 x 14.5 |
| Phosphor | Bars |
| Gum | PVA |
Text © reproduced with the permission of Royal Mail Group Ltd. All rights reserved.