Moon Landing [Commemorative Sheet] Stamps
These Royal Mail stamps were affixed to specially designed envelopes and postmarked on the first day that the stamps were issued.
21.07.2009 | The Apollo 11 Crew, Postmarked at Leicester
BUY NOW   £20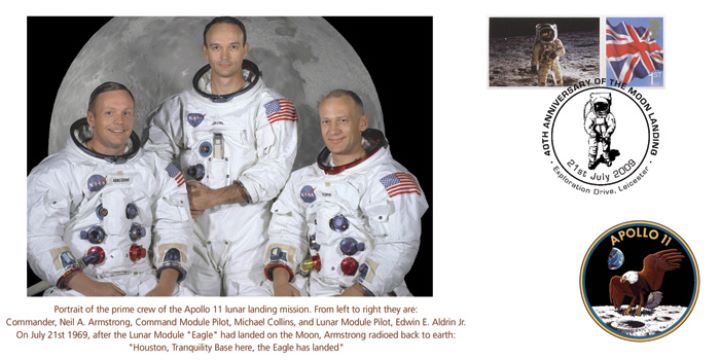 Click on image for larger view
Why not take a look at other items on a similar theme?
Royal Mail provided background information for this issue
click on titles to view details.
Journey to the moon.
This Commemorative Sheet marks the 40th anniversary of first Moon landing. The sheet contains 10 1st Class Union Flag stamps with attached labels featuring events from the launch of Apollo 11 on 16 July 1969 to the parade for the astronauts in New York in August.

One label shows what is regarded as one of history's most iconic images, Buzz Aldrin pictured on the Moon.
The sheet is supplied in an illustrated pack telling the story of man's fascination with the Moon and the events leading to 'one small step', written by Sir Patrick Moore. He describes the Moon as 'our faithful companion in space. . . the source of the utmost fascination to us'.

Amongst the illustrations is a detailed map of the Moon, created by Sir Patrick, used by nasa for the Apollo 11 lunar landing.

The Commemorative Sheet, designed by the Chase design agency, was printed in litho by Cartor.
Text © reproduced with the permission of Royal Mail Group Ltd. All rights reserved.