Mythical Creatures Stamps
These Royal Mail stamps were affixed to specially designed envelopes and postmarked on the first day that the stamps were issued.
16.06.2009 | Special Handstamp, Postmarked at Tallents House
BUY NOW   £20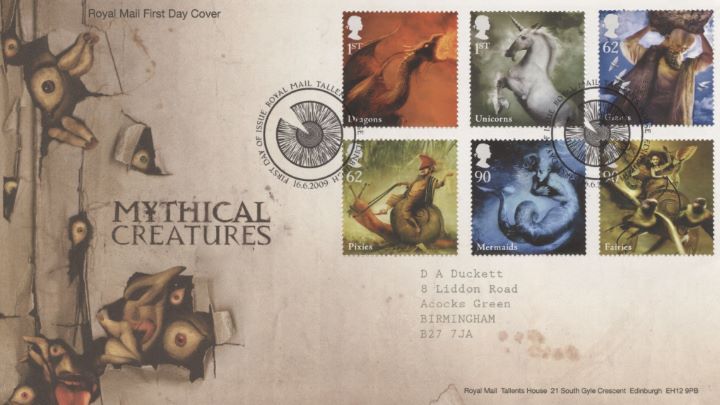 Click on image for larger view
Why not take a look at other items on a similar theme?
Royal Mail provided background information for this issue
click on titles to view details.
Latest News
The Mythical Creatures stamps will have images in the Sheet margins. The eyes of the creatures on the stamps will be printed in the top and bottom Sheet margins and also in the left and right Sheets margins between the panes of 25 in the Sheets of 50 stamps.
Reason and inspiration
From the land of the giants, to the prank-loving world of the pixies, the UK has a rich history of folklore and legend dating back to the oral tales handed down the generations by Celtic bards - and brought right up to date through Harry Potter and the hugely successful Dragonology books. Mythical Creatures features a collection of six wonderful beasts and creatures brought to life through the brilliant illustrations of Dave McKean.

But is this really what they look like? Who can tell, but one thing's for sure, it's the hold these creatures have upon the imagination that has ensured their images have been incorporated into everything from heraldry to architecture.

Perhaps that's also why the popularity of these creatures remains undiminished to this day thanks to the success of the works of authors such as JRR Tolkien, CS Lewis, Michael Moorcock, Neil Gaiman and Terry Pratchett, together with the vast array of CGI animated films and computer games.
Stamp design and background
A range of illustrators were commissioned by designers Morgan-Radcliffe to create images of Mythical Creatures. Dave McKean, an illustrator who is perhaps best known for his work on graphic novels was eventually selected as his work had a dramatic and contemporary look – and his often frightening images for this issue have certainly breathed life into these strange creatures. The stamps are printed in separate Sheets, not se-tenant pairs.
Stamp by Stamp
1st Class – Unicorns
Traditionally represented as a horse with a single horn, a billy goat's beard, cloven hooves and a lion's tail, perhaps the unicorn made sense of travellers' descriptions of the rhinoceros? Two unicorns support the Coat of Arms of Scotland, while one together with a lion the Coat of Arms of the United Kingdom.
1st Class – Dragons
Common to the mythologies of many countries the dragon has a reptilian body, traditionally breathes fire or spits poison and often has a pair of bat like wings. Often the guardian of treasure hordes, and frequently the terror of fair maids.

Apart from the famous associations with St George and the red dragon of Wales, dragons also appear in the Mabinogion, a series of 12 medieval Welsh stories.
62p – Giants
Legend has it that the Northern Ireland's Giant's Causeway is the remains of a pathway between Scotland and Northern Ireland created when the Scottish giant Fingal hurled the first clod into the Irish Sea and the Irish giant Finn McCool hurled more back.
62p – Pixies
Or Piskies as they are known in their native West Country look like old men with wrinkled faces. They are small in stature with red hair and dress in the colours of the earth especially green, usually cheerful and helpful, but they also like playing pranks.
90p – Mermaids
Part woman and part fish the Mermaid would often entrance sailors with their song causing them to run ships aground or jump overboard, then carry them off to their undersea home forgetting that they breathe air.
90p – Fairies
Sometimes good and sometimes bad, the fairy folk come in many forms; here Queen Mab takes to the air in her hazelnut chariot. Queen Mab is described in Shakespeare's Romeo and Juliet as a tiny fairy who drives her chariot across the faces of sleeping people.
Mint Stamps - Technical Details:
| Feature | Type/Detail |
| --- | --- |
| Number of stamps | Six |
| Design | Morgan Radcliffe |
| Illustration | Dave McKean |
| Stamp format | Square |
| Stamp size | 35mm x 35mm |
| Printer | De La Rue Security Print |
| Print process | Gravure |
| Number per sheet | 25/50 |
| Perforations | 14.5 x 14.5 |
| Phosphor | All over |
| Gum | PVA |
Text © reproduced with the permission of Royal Mail Group Ltd. All rights reserved.