Navy Uniforms Stamps
These Royal Mail stamps were affixed to specially designed envelopes and postmarked on the first day that the stamps were issued.
17.09.2009 | Navy Cap Badge, Postmarked at Portsmouth
BUY NOW   £20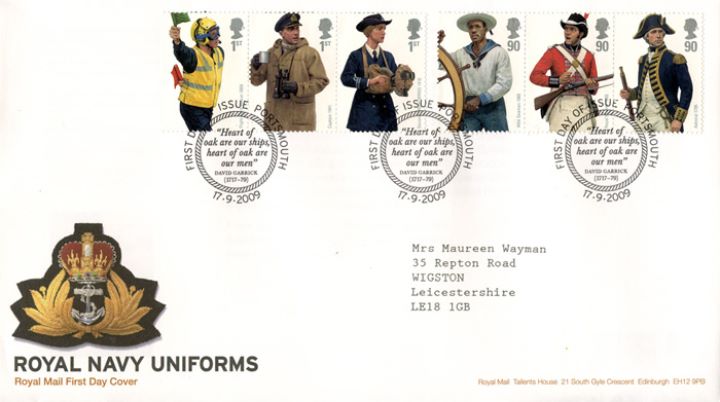 Click on image for larger view
Why not take a look at other items on a similar theme?
Royal Mail provided background information for this issue
click on titles to view details.
Reason and inspiration
We set sail on the third and final issue in our Military Uniforms series by highlighting the history of clothing and equipment of the Royal Navy.

The series, which began in 2007 with the British Army and continued in 2008 with Royal Air Force, looks at more than two centuries of nautical apparel from the Senior Service; from a telescope-touting Admiral of 1795 to the high-tech, high visibility uniform of a modern day Flight Deck Officer.
Stamp design and background
The Royal Navy Uniforms stamp issue comprises of two se-tenant strips of three First Class stamps and three 90p stamps. Each stamp bears an illustration of a uniformed member of the Royal Navy by the artist Graham Turner. Each individual represents a member of the service's personnel in a significant period of the service's history.

Extensive research was carried out in conjunction with the National Maritime Museum in London, the Royal Navy Museum in Portsmouth and the Royal Marines Museum in Southsea together with the eminent military historian Professor Richard Holmes and the maritime historian Captain Richard Woodman. The stamps were designed by Atelier Works where the principal designer was Quentin Newark.
Stamp by Stamp
1st Class – Flight Deck Officer 2009
High visibility clothing is essential on the flight deck of an aircraft carrier.
1st Class – Captain 1941
Keeping warm and dry on convoy duty during World War II often meant supplementing uniform issue with extra clothing.
1st Class – Second Officer WRNS 1918
Women fulfilled a vital role during both world wars, here a Women's Royal Navy Service Officer demonstrates how to use a gas mask.
90p – Able Seaman 1880
The familiar uniform for seamen became standardized in the 19th Century.
90p – Royal Marine 1805
The Royal Marines served both on ship and in land engagements, like their Army counterparts they were issued with the typical Red Coat of the period.
90p – Admiral 1795
Officers were the first naval personnel to wear uniform, rank was shown with gold lace.
Product Portfolio
Presentation Pack No 432
The fully illustrated presentation pack contains all six Royal Navy Uniforms stamps. Inside Tim Newark looks at the history of the Senior Service's clothing and equipment. The pack was designed by Turner Duckworth and printed by Walsall Security Printers.
Prestige Stamp Book
Complete with unique stamp panes unavailable anywhere else the Prestige Stamp Book tell the story of Royal Navy Uniforms from the days of fighting sail to the high tech warships of today. The PSB was written by Tim Newark, designed by Webb and Webb and printed by Cartor Security Printing.

The first pane features the three 90p stamps appear on a background painting of the Battle of Trafalgar. The second includes the three 1st class stamps on a background of gold braiding. The third is a definitives pane comprising of - top row: 17p, 1p, 17p; middle row: 90p, an illustration of a Royal Navy Chaplain's stole crown, 90p; bottom row: 17p, 1p, 17p. The stamps are on a background of a Royal Navy jacket with cuff.

The fourth pane features two 1st Class White Ensign stamps and two 1st Class Jolly Roger stamps (first issued in 2001) set side by side twice on a background photograph of a submarine and submariners.

Stamp Cards
Six postcards bearing enlarged images of each of the Royal Navy Uniforms stamps go on sale about a week before the stamp issue date. Printed by Fulmar Colour Printing Company Ltd.
Cachet Cover
The cachet cover will look at how the Royal Navy moves its mail around and will bear a special cancellation. It was designed by Turner Duckworth.
Mint Stamps - Technical Details:
| Feature | Type/Detail |
| --- | --- |
| Number of stamps | Six |
| Design | Atelier Works |
| Illustration | Graham Turner |
| Stamp format | Portrait |
| Stamp size | 27mm x 37mm |
| Printer | Cartor Security Printing |
| Print process | Lithography |
| Number per sheet | 30/60 |
| Perforations | 14 x 14 |
| Phosphor | Bars |
| Gum | PVA |
Text © reproduced with the permission of Royal Mail Group Ltd. All rights reserved.