Olympic Games: Series No.1 Stamps
These Royal Mail stamps were affixed to specially designed envelopes and postmarked on the first day that the stamps were issued.
22.10.2009 | The Journey to 2012, Postmarked at Badminton
BUY NOW   £20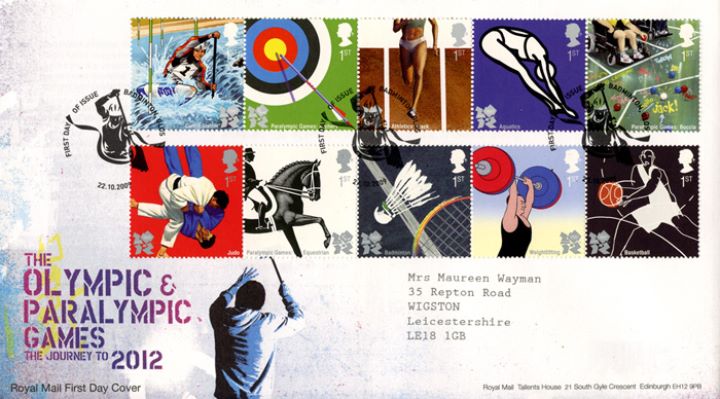 Click on image for larger view
Why not take a look at other items on a similar theme?
Royal Mail provided background information for this issue
click on titles to view details.
Reason and inspiration
In the countdown to London 2012 Royal Mail is issuing 30 stamps for the 30th Olympiad and the London 2012 Paralympic Games. Each stamp will champion an Olympic or Paralympic sport and they will be issued in three sets of ten stamps each. Royal Mail is commissioning some of the most exciting artists and illustrators to produce designs for a total of 30 stamps.

The first of these features Olympic and Paralympic Games issued in two se-tenant strips of five 1st Class stamps. Further sets of 10 will be issued in 2010 and 2011. The London 2012 Games commences on 27 July 2012 and concludes on 12 August. The Paralympic Games commences on 29 August and concludes on 9 September 2012.
Stamp design and background
The Olympic Games comprises 26 different sporting disciplines, such as Cycling. Cycling includes several different events where medals are won – including road racing, various time trials and velodrome races as well as mountain biking events and BMX. Many gold medals can be won in different events, and all will be symbolised by one Cycling stamp symbolising the sport of Cycling.

The Paralympic Games features 21 sports, such as Judo (which is also competed in the Olympic Games), as well as Paralympic specific events such as Goalball. In all, 29 different sports are played at the Olympics and Paralympics. There will be one stamp design for each sport with the exception of athletics which will be presented across two stamps as Athletics: Track and Athletics: Field, hence 30 sport stamps.

Sports from each of the Olympic disciplines were selected to illustrate the subject of each stamp and Royal Mail's design team with David Hillman, from Studio David Hillman, set to work allocating each sport to one of the quality image makers who agreed to work on this three-year project. Royal Mail also consulted with the sports' governing bodies and specialist clubs for each stamp. Each stamp will have the London 2012 Olympic or Paralympic logo in the lower corner.
Stamp by Stamp
1st Class – Canoe Slalom
An action packed illustration of Canoe Slalom by John Royle represents the Canoe/Kayak discipline.
1st Class – Paralympic Games: Archery
Paralympic Archery is illustrated here in the distinctive style of George Hardie.
1st Class – Athletics: Track
A collage by Nathalie Guinamard represents track events.
1st Class – Aquatics
The Aquatics discipline is represented by this distinctive illustration of a diver by Julian Opie.
1st Class – Paralympic Games: Boccia
The Paralympic discipline of Boccia is illustrated here by David Doyle.
1st Class – Judo
Paul Slater has captured the thrills of a Judo throw in this illustration.
1st Class – Paralympic Games: Equestrian
Paralympic Dressage, illustrated by Andrew Davidson, represents the Equestrian discipline.
1st Class – Badminton
An illustration of a shuttlecock by David Holmes represents the Olympic discipline of Badminton.
1st Class – Weightlifting
Illustration by Guy Billout.
1st Class – Basketball
Huntley Muir bring their distinctive style to the discipline of Basketball.
Product Portfolio
Presentation Pack M18 – Olympic and Paralympic Games
The fully illustrated Presentation Pack contains the ten Olympic and Paralympic Games stamps. Inside former Daily Mail sports news editor Ian Cole takes a look at each of the sports. The pack was designed by True North and printed by Walsall Security Printers.
Stamp Cards Price
Ten postcards bearing enlarged images of each of the Olympic and Paralympic Games stamps. Printed by Fulmar Colour Printing Company Ltd.
Commemorative Sheet
Featuring all 10 Olympic and Paralympic Games stamps.
Mint Stamps - Technical Details:
| Feature | Type/Detail |
| --- | --- |
| Number of stamps | Ten |
| Design | Studio David Hillman |
| Illustration | Canoe Slalom: John Royle; Archery: George Hardie; Track: Natalie Guinamard; Diving: Julian Opie; Boccia: David Doyle; Judo: Paul Slater; Equestrian: Andrew Davidson; Badminton: David Holmes; Weightlifting: Guy Billout; Basketball: Huntley Muir. |
| Stamp format | Square |
| Stamp size | 35mm x 35mm |
| Printer | Cartor Security Printing |
| Print process | Lithography |
| Number per sheet | 25/50 |
| Perforations | 14.5 x 14.5. |
| Phosphor | All over |
| Gum | PVA |
Text © reproduced with the permission of Royal Mail Group Ltd. All rights reserved.