Pioneers of the Industrial Revolution Stamps
These Royal Mail stamps were affixed to specially designed envelopes and postmarked on the first day that the stamps were issued.
10.03.2009 | Rack and pinion, Postmarked at Cinderford
BUY NOW   £20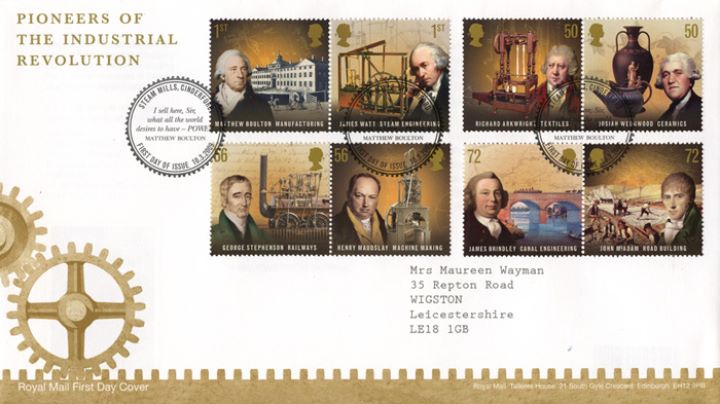 Click on image for larger view
Why not take a look at other items on a similar theme?
Royal Mail provided background information for this issue
click on titles to view details.
Reason and inspiration
Two hundred and fifty years ago a set of innovative technologies and brilliant individuals came together to propel the United Kingdom to the forefront of the Industrial Revolution.

Britain was changed forever as people moved from the countryside into the towns looking for jobs in factories and mills of the Workshop of the World.

But the Pioneers of the Industrial Revolution shown in this Stamp Issue did more than just invent machines. They also built the infrastructure of roads, railways and canals that moved raw materials to the factories; took finished goods to market and laid the foundation for today's mass transportation system.

This issue also marks the 250th anniversary of one of the Pioneers of the Industrial Revolution, Josiah Wedgwood, setting up his own pottery works in Burslem, Staffordshire, Matthew Boulton's bicentenary and the 250th anniversary of James Brindley commencing the historic Bridgewater Canal from Worsley to Manchester.
Stamp design and background
The Stamp Issue consists of eight Stamps Issued in se-tenant pairs.

With advice from a panel of experts in the history of science and industry a shortlist of eight individuals was selected for their contribution to manufacturing and creating the infrastructure that allowed manufactured products to reach their markets.

Webb and Webb's design features a portrait the pioneers on each stamp against a background showing why they are so important to the Industrial Revolution.
Stamp by Stamp
1st Class – Matthew Boulton – Manufacturing
(1728-1809) A Birmingham factory owner and engineer whose works and capital facilitated the manufacture of James Watt's steam engines
1st Class – James Watt – Steam Engineering
(1736-1819) Strong contender for the title of father of the steam age because of his years of hard work in improving the Newcomen design created a 'steam engine'.
50p – Richard Arkwright – Textiles
(1732-1792) Credited with having invented the 'water frame' for spinning cotton, and sometimes known as the father of the industrial revolution. Arkwright opened the world's first water-powered cotton mill in Derbyshire.
50p – Josiah Wedgwood – Ceramics
(1730-1795) Wedgwood not only pioneered the industrial production of ceramics, he was an archetypical industrialist of the age: religious dissenter, anti-slavery campaigner and member of the Lunar Society.
56p – George Stephenson – Railways
(1781-1848) Stephenson invented or developed several aspects of rail transport which are still with us to this day, including flanged wheels, and the standard gauge.
56p – Henry Maudslay – Machine Making
(1771-1831). Maudslay saw that the new age of machines would require metal to be worked with precision. He pioneered the making of the machines – lathes, drills, planning machines, etc. which were used to make the other machines of the revolution.
72p – James Brindley – Canal Engineering
(1716-1772) One of the most important engineers of the eighteenth century and a maker of canals, most notably the Bridgewater, started in 1759, which set the template for later canals. Brindley also pioneered many of the techniques that were later used in railway building.
72p – John McAdam – Road Building
(1756-1836). While Thomas Telford is usually the major celebrity of Industrial Revolution transport infrastructure, it was McAdam's designs and building techniques that created Britain's first decent all-weather roads.
Product Portfolio
Presentation Pack No 425, Pioneers of the Industrial Revolution
In the fully illustrated pack TV science expert Adam Hart-Davis tells the story of the UK's Industrial Revolution. The pack was designed by Webb and Webb and printed by Walsall Security Printers.
Stamp Cards
Eight Stamp Cards will be available showing enlarged versions of the Pioneers of the Industrial Revolution Stamps. These will be available about a week before the issue date. First day of Issue, Tallents House, Edinburgh Ref No FD 09 09 Alternative Postmarks
Mint Stamps - Technical Details:
| Feature | Type/Detail |
| --- | --- |
| Number of stamps | 8 |
| Stamps | 2 x 1st, 2 x 50p, 2 x 56p, 2 x 72p – se-tenant pairs |
| Design | Webb and Webb |
| Acknowledgements | Matthew Boulton, James Watt, Boulton & Watt condensing engine, Watt's engine drawings, Richard Arkwright, Arkwright's prototype spinning machine and patent drawing, George Stephenson, Locomotion model, Rocket boiler sketch, Henry Maudslay, Maudslay's table-engine model and specification drawing, Bridgewater Canal Aqueduct © Science Museum/SSPL; Liverpool & Manchester Railway map © National Railway Museum/SSPL; Boulton's Manufactory from the Phillp Album and plan of Soho © courtesy of Birmingham Museums & Art Gallery; Josiah Wedgwood, black basalt teapot and ivy leaf design © courtesy of the Trustees of the Wedgwood Museum; black basalt vase © National Museums Liverpool, Walker Art Gallery; James Brindley and John McAdam © National Portrait Gallery, London; Somerset map © Mary Evans Picture Library; roadbuilding scene provided by the Federal Highway Administration, US |
| Stamp format | Landscape |
| Stamp size | 37mm x 35mm |
| Printer | Joh. Enschedé Stamps, Haarlem, Netherlands |
| Print process | Lithography |
| Number per sheet | 30/60 |
| Perforations | 14 x 14.5 |
| Phosphor | All Over |
| Gum | PVA |
Text © reproduced with the permission of Royal Mail Group Ltd. All rights reserved.