Coronation of Elizabeth I
30210 | 21.04.2009 |
£25
BUY NOW
Printed by Royal Mail. Designed by Adrian Bradbury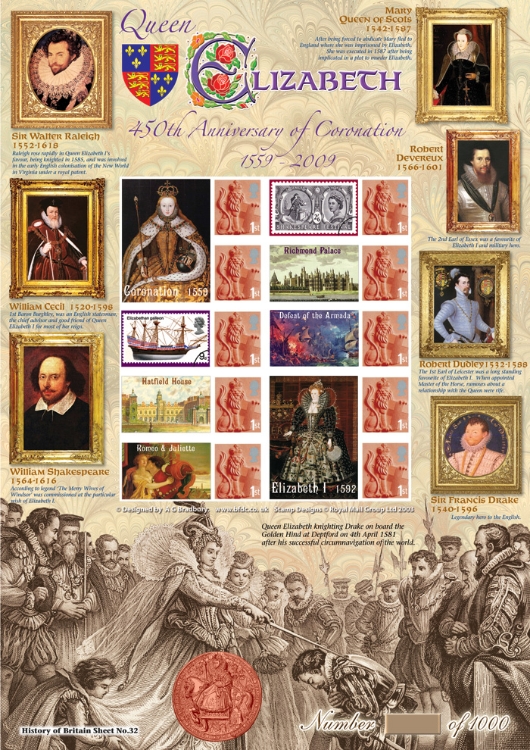 Click on image for larger view
Issue:
Coronation of Elizabeth I Stamp Sheet (Smilers®)
The sheet is limited to 1000 numbered copies.
2009 marks the 450th anniversary of the coronation of Elizabeth I. My sumptuous sheet for this anniversary features most of the famous people associated with Good Queen Bess: Sir Walter Raleigh, William Cecil, Shakespeare, Mary Queen of Scots, Robert Devereux, Robert Dudley and Sir Francis Drake. The image at the foot of the sheet shows Queen Elizabeth knighting Drake on board the Golden Hind at Deptford on 4th April 1581 after his successful circumnavigation of the world.
The principal stamp labels feature Queen Elizabeth at the time of the Coronation and again in later life. Also featured are Richmond Palace and Hatfield House with a Shakespeare stamp issued by the Post Office in 1964, Romeo and Juliet and the Defeat of the Armada.
This sheet forms part of a mini series devoted to the Kings and Queens of England.
Please click on the links below to view related sheets.
Norman & Plantagenets
Lancastrians & Yorkists
Henry VIII
The Tudors