Coronation of Henry VIII
30211 | 21.04.2009 |
£25
BUY NOW
Printed by Royal Mail. Designed by Adrian Bradbury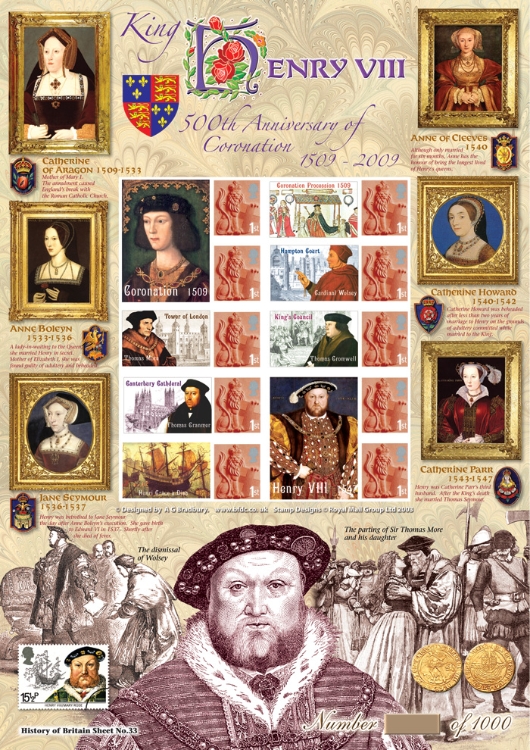 Click on image for larger view
Issue:
Coronation of Henry VIII Stamp Sheet (Smilers®)
The sheet is limited to 1000 numbered copies.
2009 marks the 500th anniversary of the coronation of Henry VIII. My sumptuous sheet for this anniversary features his six wives around the top and middle portion of the border with images at the foot showing the dismissal of Wolsey and the parting of Sir Thomas More with his daughter just before his execution.
The principal stamp labels feature Henry VIII at the time of the Coronation and again in later life. Also featured are the Coronation Procession, Cardinal Wolsey and Hampton Court, Thomas More and the Tower, Thomas Cromwell and the King's Council, Thomas Cranmer and Canterbury Cathedral, and the Henri Grace a Dieu.
This sheet forms part of a mini series devoted to the Kings and Queens of England.
Please click on the links below to view related sheets.
Norman & Plantagenets
Lancastrians & Yorkists
Elizabeth I
The Tudors