Delivering the Mail
30965 | 18.08.2009 |
£19.99
BUY NOW
Printed by Royal Mail. Designed by Adrian Bradbury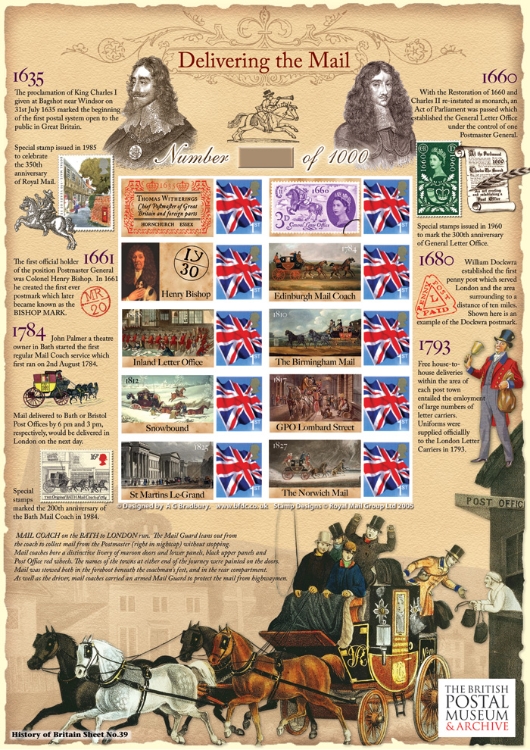 Click on image for larger view
Issue:
Delivering the Mail Stamp Sheet (Smilers®)
The sheet is limited to 1000 numbered copies.
The British Postal Museum & Archive (BPMA) is delighted to be working with Adrian Bradbury on his latest stamp sheet, Delivering the Mail , and is very pleased with the design.
The BPMA,
www.postalheritage.org.uk
, cares for visual, physical and written records of over 400 years of postal heritage, and Adrian is also kindly supporting the BPMA s charitable aims through the sales of this stamp sheet.
The stamp sheet is a visual interpretation of the early history of the Post Office from the 1635 proclamation by King Charles I through to the issue of the first uniforms supplied to London letter carriers in 1793. The sheet is limited to 1,000 and has been designed by Adrian Bradbury and printed by Royal Mail.
It is the first in a series of stamp sheets to be issued annually in association with the BPMA.
The sheet features the following images:
1635
- The proclamation of King Charles I given at Bagshot near Windsor marked the beginning of the first postal system open to the public.
1660
- With the Restoration and King Charles II re-instated as the monarch, an Act of Parliament was passed which established the General Letter Office under the control of one Postmaster General.
1661
- The first official holder of the position Postmaster General was Colonel Henry Bishop. In 1661 he created the first ever postmark which later became known as the BISHOP MARK.
1680
- William Dockwra established the first penny post which served London and the area surrounding to a distance of ten miles.
1784
- John Palmer a theatre owner in Bath established the first regular Mail Coach service on 2nd August. Mail delivered to Bath or Bristol Post Offices by 6 pm or 3 pm, respectively, would be delivered in London on the next day.
1793
- Free house-to-house deliveries within the area of each post town entailed the employment of large numbers of letter carriers. Uniforms were supplied officiallly to the London General Post letter carriers in 1793.
The British Postal Museum & Archive (BPMA) is the leading resource for all aspects of British postal history. It is a combined museum and archive, bringing together The Royal Mail Archive and a Museum Store. With collections ranging from staff records to stamps, poster design to photography and from transport to telegrams, it cares for the visual, written and physical records from over 400 years of innovation and service, illuminating the fascinating story of British communications. Records in The Royal Mail Archive are Designated as being of outstanding national importance. For more information see
www.postalheritage.org.uk