King Edward VII
34321 | 15.12.2009 |
£25
BUY NOW
Printed by Royal Mail. Designed by Adrian Bradbury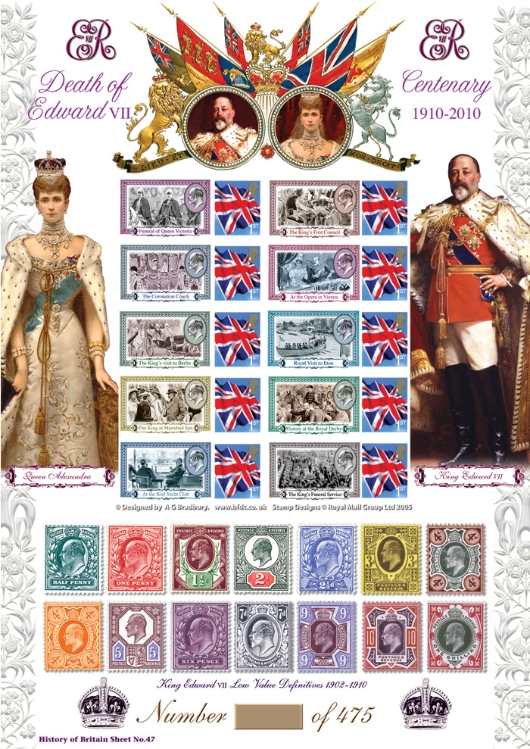 Click on image for larger view
Issue:
King Edward VII Stamp Sheet (Smilers®)
The sheet is limited to 475 numbered copies.
This sheet marks the centenary of the death of Edward VII.

The life and times of Edward VII are depicted on this superb stamp sheet with ten individually designed stamp labels issued to mark the centenary of his death in 1910. Edward VII was the leader of a fashionable elite which set a style influenced by the art and fashions of continental Europe - perhaps because of the King's fondness for travel. The Edwardian period is frequently extended beyond Edward's death to include the years up to thestart of World War I.

The Edward VII stamp labels feature:
The funeral of Queen Victoria
The King's first Council
The Coronation Coach
The King at the Opera in Vienna
The King's visit to Berlin
The Royal visit to Eton
The King at Mariebad Spa
The King's victory at the Royal Derby
The King at the Kiel Yacht Club
The King's Funeral Service

The border features images of Queen Alexandra and King Edward VII with stamp reproductions of the low value definitives issued 1902-1920.