The Anglo-Zulu War
32533 | 01.10.2009 |
£125
Printed by Royal Mail. Designed by Adrian Bradbury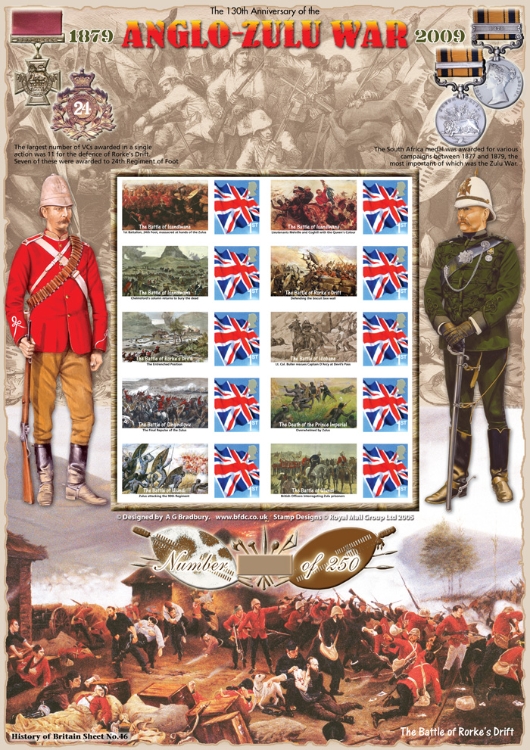 Click on image for larger view
Issue:
The Anglo-Zulu War Stamp Sheet (Smilers®)
The sheet is limited to 250 numbered copies.
This sheet marks the 130th Anniversary of the Anglo-Zulu War

The stamp labels feature:

Isandlwana
Label (1) 1st Battalion, 24th Foot, massacred at hands of the Zulus
Label (2) Chelmsford's column returns to bury the dead
Label (3) Lieutenants Melville and Coghill with the Queen's Colour

Rorke's Drift
Label (4) Defending the biscuit box wall
Label (5) The Entrenched Position

The Battle of Hlobane
Label (6) Lt. Col. Buller rescues Captain D Arcy at Devil s Pass

The Battle of Gingindlovu
Label (7) The Final Repulse of the Zulus

The Death of the Prince Imperial
Label (8) Overwhelmed by Zulus

The Battle of Ulundi
Label (9) Zulus attacking the 90th Regiment
Label (10) British Officers Interrogating Zulu prisoners

The Victoria Cross and 24th Regiment badge are featured in the top left corner. The largest number of VCs awarded in a single action was 11 for the defence of Rorke's Drift. Seven of these were awarded to 24th Regiment of Foot.

The South Africa medal, featured top right, was awarded for various campaigns between 1877 and 1879, the most important of which was the Zulu War.