The House of Tudor
30212 | 21.04.2009 |
£25
BUY NOW
Printed by Royal Mail. Designed by Adrian Bradbury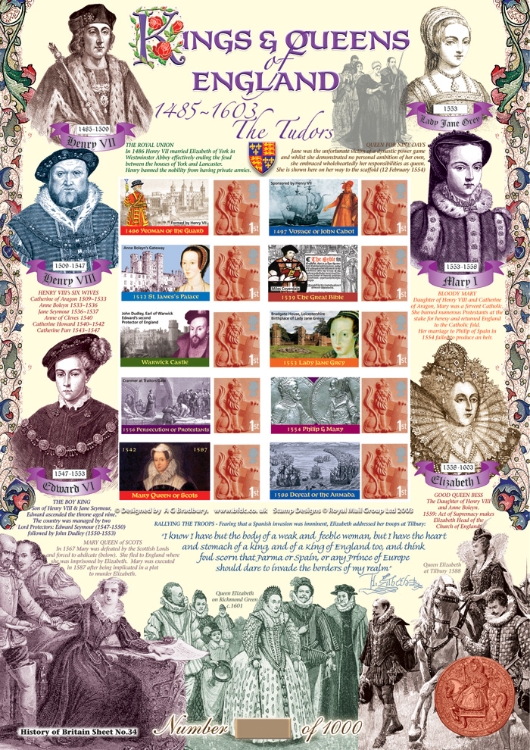 Click on image for larger view
Issue:
The House of Tudor Stamp Sheet (Smilers®)
The sheet is limited to 1000 numbered copies.
Featuring in the border, Henry VII, Henry VIII, Edward VI, Lady Jane Grey, Mary I and Elizabeth I, this sheet attempts a brief pictorial history of the House of Tudor.
The stamp labels feature:
1486 The Yeoman of the Guard formed by Henry VII
1497 The voyage of John Cabot sponsored by Henry VII
1532 St James's Palace - Anne Boleyn's Gateway
1539 Miles Coverdale and The Great Bible
John Dudley (Earl of Warwick), Lord Protector for the Boy King, Edward VI
1553 Lady Jane Grey, and the ruins of her birthplace, Bradgate House
1556 The Persecution of the Protestants by Queen Mary
1554 The marriage of Mary to Phillip of Spain
1587 The execution of Mary Queen of Scots
1588 The defeat of the Spanish Armada.
The three images at the foot of the sheet show Mary Queen of Scots being forced to abdicate by the Scottish Lords, Queen Elizabeth on Richmond Green and the Queen again at Tilbury before the defeat of the Armada.
This sheet forms part of a mini series devoted to the Kings and Queens of England.
Please click on the links below to view related sheets.
Norman & Plantagenets
Lancastrians & Yorkists
Elizabeth I
Henry VIII