The Tudors 2009
View FDCs for this issue
Miniature Sheet
21.04.2009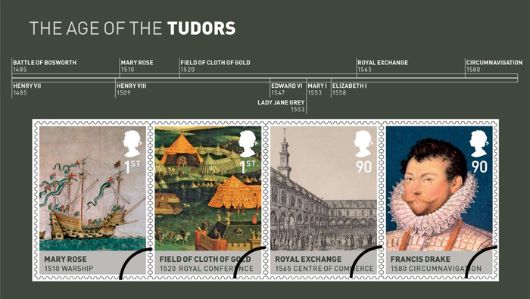 The image above is shown for reference only, and is not for sale.
© Reproduced with the permission of Royal Mail Group Ltd. All rights reserved.
Click on image for larger view
21st April
2009

Click on 2009 to view an overview of all items on our website for 2009
;
1st Mary Rose
1st Field of Cloth of Gold
90p Royal Exchange
90p Francis Drake
* click on stamp to view more details
Royal Mail provided background information for this issue
click on titles to view details.
Reason and inspiration
From the Battle of Bosworth Field in 1485 to the death of Good Queen Bess in 1603, the age of The House of Tudor was forged in bloodshed. Grasping the crown on the battlefield, Henry Tudor's claim on the throne may have been slender, but he went on to create a dynasty that saw some of the best known of our Kings and Queens sit upon the English throne.

The House of Tudor is the second issue in Royal Mail's Kings and Queens series and it features individual portraits of the monarchs, complemented with a four-stamp Miniature Sheet illustrating significant people and events from the period.

Marking the end of the Middle Ages, the Tudor period was also a time of plotting, sedition, religious upheaval and a series of wars. It marked an unprecedented growth in the power of the monarchy as both state and church came under their control, while England's sailors explored new territories and took on the might of the Spanish Armada. Commerce and the arts also flourished with the foundation of the Royal Exchange and the plays of both Shakespeare and Marlowe. The era was also significant as it introduced the Renaissance into Britain.

Kings and Queens is the most significant series of stamps issued by Royal Mail for almost a decade. Issued over four years, it features all six Royal Houses and spans 700 years of British history.
Stamp design and background
The House of Tudor stamp issue was designed by Atelier Works who also designed the first of the Kings and Queens issues, the Houses of Lancaster and York in 2008. It comprises of six stamps featuring contemporary portraits of the monarchs and a miniature sheet of four stamps featuring significant individuals and events from their reigns.

The events featured on the Miniature Sheet, also designed by Atelier Works, are: Henry VIII's great Battleship the Mary Rose launched in 1510, the royal conference between England and France in 1520 known as the Field of Cloth of Gold, the foundation of the Royal Exchange in 1565 and the circumnavigation of the world completed by Sir Francis Drake in 1580.
Stamp by Stamp
1st Class – Henry VII (1457-1509)
Son of Edmund Tudor and Lady Margaret Beaufort. He defeated Richard III at Bosworth, and then spent the next fifteen years surviving successive plots and rebellions. He was a great patron of the arts, builder, and a very efficient ruler. He commissioned Europe's first ever, and the world's oldest surviving, dry dock at Portsmouth in 1495

Born Pembroke Castle 28 Jan 1457
Acceded 22 August 1485
Crowned 30 October 1485 Westminster Abbey
Died 21 April 1509 Richmond Palace


1st Class – Henry VIII (1509-1547)
The son of Henry VII. Famously married six times to secure male heirs. He presided over the English Reformation and more political executions than any other English monarch.

Born Greenwich 28 June 1491
Acceded 22 April 1509
Crowned 24 June1509 Westminster Abbey
Died 28 Jan 1547 Whitehall


56p – Edward VI (1547-1553)
Son of Henry VIII and Jane Seymour, Edward became King at the age of nine and died age 15 from tuberculosis. During his reign reform of the Church continued with the issue of the Book of Common Prayer. England's first Protestant ruler.

Born Hampton Court Palace 12 Oct 1537
Acceded 28 Jan 1547
Crowned 20 Feb 1547 Westminster Abbey
Died 6 July 1553 Greenwich Palace


56p – Lady Jane Grey (1553)
Second cousin to Edward VI, Lady Jane Grey is named by Edward and his first minister Northumberland as heir to ensure the Protestant succession and reigns for nine days before being deposed by Mary. Beheaded in 1554 after the failure of Sir Thomas Wyatt's attempt to depose Mary.

Reigned from 19 July 1553 for nine days then arrested by Mary and executed on Tower Green in 1554

72p – Mary (1553-1558)
Daughter of Henry VIII and Catherine of Aragon, Mary was the first woman to rule England in her own right. Restored the Roman Catholic Church in England, but is remembered for her savage persecution of Protestants, about three hundred were burned earning her the name Bloody Mary.

Born Greenwich Palace 18 Feb 1516
Acceded 19 July 1553
Crowned 1 Oct 1553 Westminster Abbey
Died 17 Nov 1558 St James's Palace


72p – Elizabeth I (1558-1603)
Daughter of Henry VIII and Anne Boleyn. She turned England into the dominant maritime power, and she presided over a return to the Protestant Church and a tremendous national flowering of literature. Her failure to marry and produce an heir left the royal succession open for the House of Stuart.

Born Greenwich Palace Palace 7 Sept 1533
Acceded 17 Nov 1558
Crowned 15 Jan 1559 Westminster Abbey
Died 24 March 1603 Richmond Palace
Mint Stamps - Technical Details:
| Feature | Type/Detail |
| --- | --- |
| Number of stamps | Six |
| Design | Atelier Works |
| Acknowledgements | portraits of Henry VII and Lady Jane Grey both by unknown artists © National Portrait Gallery, London; Edward VI (1537–53), c.1546, attributed to William Scrots, The Royal Collection © 2008 Her Majesty Queen Elizabeth II; King Henry VIII (oil on oak panel), Hans Holbein the Younger (1497/8–1543)/Thyssen- Bornemisza Collection, Madrid, Spain/The Bridgeman Art Library; Mary I by Antonis Moro or Mor (1516–75) © The Art Archive/Museo del Prado Madrid; Elizabeth I by Federico Zuccari (1540/42–1609) © The Art Archive/Pinacoteca Nazionale di Siena/Gianni Dagli Orti |
| Stamp format | Portrait |
| Stamp size | 27mm x 37mm |
| Printer | Cartor Security Printing, Meacé, France |
| Print process | Lithography |
| Number per sheet | 25/50 |
| Perforations | 14 x 14 |
| Phosphor | Bars as appropriate |
| Gum | PVA |
Text © reproduced with the permission of Royal Mail Group Ltd. All rights reserved.
The images on this website (excluding postmark images) are also included on the latest edition of
Stamp Organiser
, a user friendly computer program for you to record details of your collection of British stamps, first day covers, stamp books, presentation packs and PHQ cards -
Stamp Organiser
.
Released with
Set of Stamps
Miniature Sheet
Press Sheet
Presentation Pack: 426
PHQ Cards: 322
PHQ Cards: 322
Postmarks