The Tudors: Miniature Sheet Stamps
These Royal Mail stamps were affixed to specially designed envelopes and postmarked on the first day that the stamps were issued.
21.04.2009 | The First Royal Exchange, Postmarked at London EC
BUY NOW   £20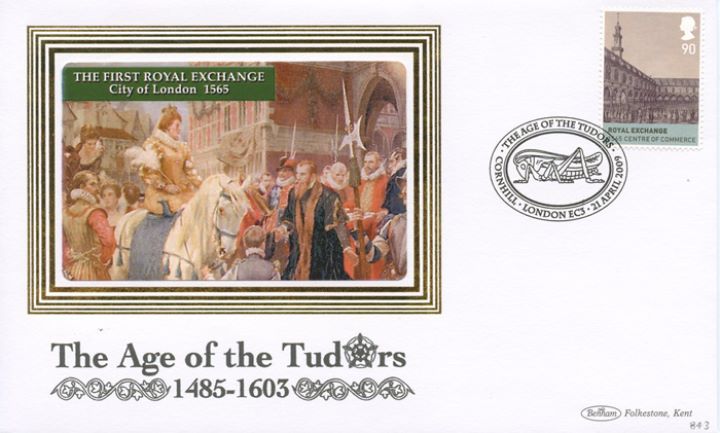 Click on image for larger view
Why not take a look at other items on a similar theme?
Royal Mail provided background information for this issue
click on titles to view details.
Stamp by Stamp
1st Class – Mary Rose
Henry VIII's great battleship was launched in 1510. It sank in the Solent in 1545.
1st Class – Field of Cloth of Gold
The site of a spectacular meeting between Henry VIII and Francis I of France to increase the bonds of friendship between France and England in 1520.
81p – Royal Exchange
The Royal Exchange was founded in 1565 as a centre of commerce for the City of London.
81p – Sir Francis Drake
The Elizabethan adventurer and explorer who circumnavigated the globe in 1580.
Product Portfolio
Miniature Sheet – The Age of the Tudors
The miniature sheet is made up of four new stamps (2 x 1st and 2 x 81p) featuring events and individuals from the reign of The House of Tudor. The events featured are Henry VIII's great Battleship the Mary Rose launched in 1510, the royal conference between England and France in 1520 known as the Field of Cloth of Gold, the foundation of the Royal Exchange in 1565 and the circumnavigation of the world completed by Sir Francis Drake in 1580. The border design features a timeline of the period.
Presentation Pack No 426 – Kings and Queens, the House of Tudor
The fully illustrated presentation pack contains the six Kings and Queens stamps and the Miniature Sheet on a separate designed carrier. Inside the fully illustrated pack there is an overview of the period by historian Professor Ronald Hutton The pack was designed by Atelier Works and printed by Walsall Security Printers.
Stamp Cards
Eleven postcards bearing enlarged images of each of the Kings and Queens, House of Tudor stamps and the miniature sheet go on sale about a week before the stamp issue date. Printed by Fulmar Colour Printing Company Ltd.
Miniature Sheet - Technical Details:
| Feature | Type/Detail |
| --- | --- |
| Number of stamps | 4 |
| Stamps | 2 x 1st, 2 x 90p |
| Size of Sheet | 123mm x 70mm |
| Design | Atelier works |
| Acknowledgements | Mary Rose © The Art Archive/Magdalene College Cambridge/Eileen Tweedy; The Field of Cloth of Gold, 1520, The Royal Collection © 2008 Her Majesty Queen Elizabeth II; The Royal Exchange of London, Wenceslaus Hollar, 1644 © The Trustees of the British Museum; Sir Francis Drake, 1581, Nicholas Hilliard (1547–1619)/Kunsthistorisches Museum, Austria/The Bridgeman Art Library |
| Stamp format | Portrait |
| Stamp size | 27mm x 37mm |
| Sheet Size | 123mm(w) x 70mm(h) |
| Printer | Cartor Security Printing, Meacé, France |
| Print process | Litho |
| Perforations | 14 x 14 |
| Phosphor | Bars |
| Gum | PVA |
Text © reproduced with the permission of Royal Mail Group Ltd. All rights reserved.