Classic Album Covers Stamps
These Royal Mail stamps were affixed to specially designed envelopes and postmarked on the first day that the stamps were issued.
07.01.2010 | Record Player and Albums, Postmarked at Oldfield, Keighley
BUY NOW   £20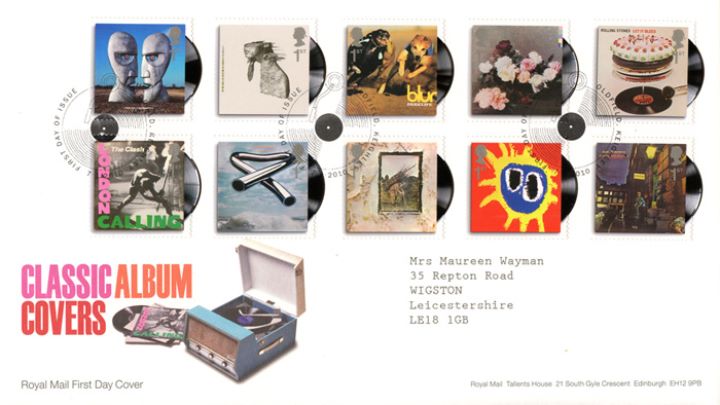 Click on image for larger view
Why not take a look at other items on a similar theme?
Royal Mail provided background information for this issue
click on titles to view details.
Reason and inspiration
After the success of 2009's British Design Classics, 2010 opens with a look at the classic art of the album cover. For decades the album sleeve has been the canvas for some of the most imaginative graphic artists in the world. This stamp issue salutes this unique art form and celebrates some of the greatest examples, used by UK artists.

This band of designers and photographers have not only reflected the visual styles of many musical cultures, but have also defined and created them, too.

The stamp issue explores some of the most potent graphic images of modern times, many of which have provided a visual soundtrack to people's lives.

Many of the most significant graphic designers of the last 40 years are represented by this selection of ten iconic album covers.
Stamp design and background
This issue celebrates the work of the album sleeve designer, not the music. Royal Mail began with very extensive research of existing lists and polls of 'Greatest Album Covers' in books, music press and the web. This trawl of literally thousands of albums uncovered many that were common to most lists.

The editors of three of the UK's most influential music publications together with a number of graphic designers and design writers were asked to independently list the most significant album sleeve artwork used on records by British artists.

Royal Mail reviewed all the research to assemble a shortlist of albums that spanned the decades from the 1960s. Some albums could not be included for operational reasons (for instance, designs that were too dark), after final deliberation the ten albums were arrived at.

Studio Dempsey were selected to design the final selection and hit upon the idea of a set of ten die-cut self-adhesive stamps showing the album sleeve with the vinyl disc showing on the open edge. The stamps are printed in se-tenant blocks of five over two sheets.
Stamp by Stamp
1st Class – The Division Bell – Pink Floyd
Released 1994, design by Storm Thorgerson
The creation of the sleeve for Pink Floyd's 1994 album, The Division Bell, was far more extravagant in terms of production and execution than 1973's The Dark Side of the Moon. The cover shows two metal head sculptures by John Robertson.

Each over three metres tall and weighing 1500 kilograms these gargantuan objects were lifted to a field in Cambridgeshire where they were photographed under all weather and lighting conditions during a two-week period, sometimes with visual effects such as lights between them. Ely Cathedral is visible in the background, as are lights through the sculptures' mouths.

The dramatic outcome proved fitting for what would be Floyd's last studio album – which sold more than 12 million copies.
1st Class – A Rush of Blood to the Head - Coldplay
Released 2002, design Sølve Sundsbø
Shot with a three dimensional camera in black and white. The model wore all-white makeup and a twill cape. The computer was unable to read the colours which were replaced with spikes, and the head in the image was chopped because the machine only scanned 30 centimetres.

Seemingly unable to fulfil his dream of becoming a gainfully employed photographer in his native Norway, Sølve Sundsbø came to England, graduated from the London College of Printing and spent four years assisting fashion photographer Nick Knight before developing his own hyper-real style.

The shot he took that graces the cover of Coldplay's second album was originally commissioned by Dazed and Confused magazine before being appropriated by the band. "Chris Martin (Coldplay's singer) saw the image and said "I want that on my album cover." So they called me up and told me," explains Sundsbø.
1st Class – Parklife – Blur
Released 1994, design Chris Thomson / Stylorouge, photography: Bob Thomas
Blur's third studio album features a pair of racing greyhounds reflecting the band's laddish persona.

Despite their Colchester roots, Blur were inspired by the very essence of London. Their third album Parklife – allegedly part-influenced by Damon Albarn's enthusiasm for Martin Amis's 1989 novel, London Fields – was a sign of that, its geezer-ish charm accentuated by its laddish sleeve depicting a pair of greyhounds captured mid-race at by photographer Bob Thomas. Designed by Chris Thomson (whose association with Blur harks back to their 1992 Popscene single, the sleeve for which he designed while on work placement at Rob O'Connor's Stylorouge design hot-house), the cover itself is now regarded with mixed feelings by the band, with guitarist Graham Coxon stating "It's all intellect and no soul – but it's also sensational, graphic and perfect."
1st Class – Power, Corruption and Lies – New Order
Released 1983, design by Peter Saville
The cover is a reproduction of the painting A Basket of Roses by 19th century French artist Henri Fantin-Latour. Peter Saville created a collision between the overly romantic and classic image in the National Gallery, and the stark contrast of the typography based on the modular, colour-coded alphabet he created solely for the band.

Graduating from Manchester Polytechnic in 1978, Peter Saville's love of both modernism and classicism was immediately evident on his seminal work which adorned Joy Division's Unknown Pleasures and Closer respectively – the first featuring a pulsing line image from the Cambridge Encyclopaedia of Astronomy, the second a funeral scene of Christ entombed. As Factory Records' in-house designer he drew on minimalism and romance in equal measure, a point borne out on Power Corruption and Lies via his juxtaposition of Fantin-Latour's A Basket of Roses and the colour-coded alphabet strip denoting the album as product. "I was saying, Can't pop culture embrace a wider spectrum of references?" he told MOJO magazine.
1st Class – Let it Bleed – The Rolling Stones
Released 1969, design Robert Brownjohn
Robert Brownjohn's sleeve shows the Let It Bleed record being played by the antique tone-arm of a turntable, fitted with a tall record-changer-style spindle supporting, (bottom-to-top): a magnetic tape/movie reel canister labeled Stones - Let It Bleed; a clock face; a pizza; a small tire; a cake and figures of the band.

By the time Robert Brownjohn came to design the anarchic sleeve for Let It Bleed the Americanborn graphic designer had already made his mark by working on large scale commercial projects for the likes of Pepsi as well as creating the title sequences for James Bond movies From Russia With Love and Goldfinger. His pop-art sensibilities were brought to bear on the Stones's 1969 effort, Brownjohn's sleeve sculpture being based on the initial proposed album title of Automatic Changer and augmented with the then unknown cook Delia Smith's cake imagery. A bon viveur, Brownjohn sadly died of a heart attack a year after Let It Bleed's release.
1st Class – London Calling – The Clash
Released 1979, design Ray Lowry
The band's third album features a picture of Paul Simonon smashing his bass onstage at New York's Palladium Theatre. Pennie Smith's photograph was named best Rock n' Roll photograph of all time by readers of Q magazine in 2002. Ray Lowry's cover artwork is in homage to Elvis Presley's debut album typography and layout.

While The Clash rode in on a punk ticket, their listening habits revealed them to be rock'n'roll purists armed with open minds. Their third album London Calling confirmed as much, serving up a heady brew of soul, reggae, funk and rock'n'roll swagger. As if to emphasise their traditionalism, maverick cartoonist Ray Lowry – who'd joined the band on tour during their US tour in September 1979 where Bo Diddley was one of their support acts - designed this sleeve, paying homage to Elvis Presley's debut album. Pennie Smith's shot of Paul Simonon smashing his bass remains one of rock's defining images, and one that the perennially understated photographer has grown to like. "I just didn't think it was right for a sleeve at the time," she says. "Now, after all this time it's OK."
1st Class – Tubular Bells – Mike Oldfield
Released 1973, design Trevor Key
The concept for the triangular bell on the album cover art originally came from the idea of a bell which had been destroyed. Oldfield thought of this when he dented the set of tubular bells used to record the album when playing them. The effect was achieved with a length of bent chromed pipe photographed and then laid over a moody sky scene.

There was a vague notion of calling the album Breakfast in Bed. Then Mike Oldfield listened back to Vivian Stanshall's spoken-word introduction of each instrument that closes Part 1 (and Side One) of this two-track effort. "Tubular bells!" enunciated Stanshall brightly, providing the album with its title and triggering Oldfield's idea for the artwork. Designer and photographer Trevor Key – the man who scrawled the second and now ubiquitous Virgin logo on a restaurant napkin during a fortuitous lunch with Richard Branson – brought Oldfield's concept to life, creating a Magritte-inspired image from bent chromed metal piping which he photographed then cut out over a melodramatic shot taken on the south coast. The effect, visually and musically, proved to be monolithic.
1st Class – IV – Led Zeppelin
Released 1971, design Graphreaks, Art Directed by Jimmy Page
The focal point of the gatefold sleeve was a painting of a faggot-bearing old man (found by singer Robert Plant in a Reading junk shop, according to Page – but also said to have been purchased by a roadie), which was nailed to a wall of a partially demolished house overlooking a bleak Dudley landscape dominated by a high-rise. For all its alleged mystique, the sleeve was Zeppelin's own ecological statement.

Guitarist Jimmy Page's quest for "total anonymity" meant that the world's biggest rock band released their fourth album without the merest of mentions of their name on its cover. One executive at Atlantic, the band's label, described it as "commercial suicide", in fact, 32 million people disagreed.
1st Class – Screamadelica – Primal Scream
Released 1991, design Paul Cannell
Inspired by Picasso Paul Cannell's psychedelic sunburst was the perfect packaging for Primal Scream's breakthrough album.

Former commercial printer and one-time milkman, Paul Cannell was never formally schooled in graphic design. Deeply inspired by Picasso, he sought refuge in painting and in his mid-20s became the in-house artist for both the Heavenly and Creation labels, setting up a studio in the latter's Hackney offices. There, he created Primal Scream's most iconic sleeve – the child-like, primary colours of his mis-shaped sun matching the impressionistic, post-rave psychedelic sensibilities of the music it housed. Never believing in his own worth, tragically Cannell took his own life in 2005 at the age of 32.
1st Class – The Rise and Fall of Ziggy Stardust and the Spiders from Mars – David Bowie
Released 1972, design Main Artery
The concept is a glamorous alien in the grimy backstreets of London. Brian Ward photographed David Bowie in full stage costume outside furriers, K. West, at 23 Heddon Street, London, W1.

These days Heddon Street, a cul-de-sac off Regent Street in London's West End, boasts a number of gastro eateries. It is not the kind of place you would expect an alien to land. And yet, on a miserable and cold February evening in 1972, photographer Brian Ward helped to conceptualise David Bowie's notion of the same-styled visitor seduced by the trappings of excess, fame and flamboyant ambiguity. The result is a sleeve – designed under the watchful eye of Bowie's ex-King Bee bandmate and friend George Underwood – that juxtaposes glam hedonism with backstreet grime, reflecting the pronouncements of 'Moonage Daydream' and 'Starman' in equal measure.
Product Portfolio
Classic Album Covers Stamps
The stamps are printed across two sheets, each with five self-adhesive designs. Each sheet therefore has vertical strips of individual albums.
Classic Album Covers Souvenir Sheet
The Souvenir Sheet contains all ten Classic album cover stamps set within a decorative border designed to replicate a 'Greatest Hits' album sleeve. It was designed by Studio Dempsey and is gummed. Size is 223mm x 188mm.
Presentation Pack No 436 – Classic Album Covers
The fully illustrated presentation pack contains all ten Classic Album Covers Stamps. Inside Mojo Editor Phil Alexander speaks to long-time Pink Floyd sleeve designer Storm Thorgerson and takes a look at Album Cover design. The pack was designed by Studio Dempsey and printed by Walsall Security Printers.
Prestige Stamp Book - Classic Album Covers
Inside the PSB Mojo editor Phil Alexander looks at the development of the design of record sleeves over the past 50 years and talks to Sgt Pepper designer Sir Peter Blake, Roger Dean famed for his work with progressive rock bands like Yes and Peter Saville who is best known for his work with New Order and Joy Division.

The book has been designed by True North and contains four stamp panes, two featuring the Classic Album Cover Art stamps and two mixed Machin panes (5 x 10p, 2 x 5p, and 2 x 22p: plus 4 x 20p, 2x 54p and 2 x 62p surrounding a label featuring a vinyl disc).
Stamp Cards
Ten postcards bearing enlarged images of each of the Classic Album Covers stamps go on sale about a week before the stamp issue date.
Mint Stamps - Technical Details:
| Feature | Type/Detail |
| --- | --- |
| Number of stamps | Ten |
| Design | Studio Dempsey |
| Photography | Andy Seymour |
| Digital retouching | FTP |
| Acknowledgements | The Division Bell by Pink Floyd – licensed courtesy of Pink Floyd (1987) Ltd; A Rush of Blood to the Head by Coldplay – design by Sølve Sundsbø; Parklife by Blur – design by Chris Thomson/Stylorouge, photography by Bob Thomas; Power, Corruption and Liesby New Order – Factory 1983, design by Peter Saville, A Basket of Roses by Henri Fantin-Latour, 1890; Let It Bleed by The Rolling Stones – courtesy of ABKCO Records, original cover and liner design by Robert Brownjohn, photo by Don McAllester, cake by Delia Smith; London Calling by The Clash – photograph © Pennie Smith; Tubular Bells by Mike Oldfield – licensed courtesy of Mercury Records Limited; Led Zeppelin IV by Led Zeppelin © Superhype Tapes Ltd. Reproduced by permission of Led Zeppelin; Screamadelica by Primal Scream – Artist: Paul Cannell, Courtesy Primal Scream/Sony Music Entertainment UK Ltd; The Rise and Fall of Ziggy Stardust and the Spiders from Mars by David Bowie – courtesy of Risky Folio Inc. on behalf of David Bowie |
| Stamp format | landscape |
| Stamp size | 34mm x 32mm including disc |
| Printer | De La Rue Security Print |
| Print process | gravure |
| Number per sheet | 25/50 |
| Perforations | Die-cut simulated |
| Phosphor | All over |
| Gum | Self-adhesive |
Text © reproduced with the permission of Royal Mail Group Ltd. All rights reserved.