Olympic Games: Series No.2
27.07.2010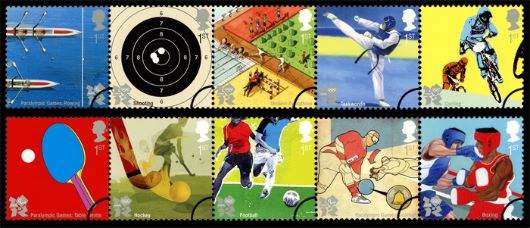 The image above is shown for reference only, and is not for sale.
© Reproduced with the permission of Royal Mail Group Ltd. All rights reserved.
Click on image for larger view
The images on this website (excluding postmark images) are also included on the latest edition of
Stamp Organiser
, a user friendly computer program for you to record details of your collection of British stamps, first day covers, stamp books, presentation packs and PHQ cards -
click here for more details
.
Royal Mail provided background information for this issue
click on titles to view details.
Reason and inspiration
In the countdown to the London 2012 Olympic Games Royal Mail is issuing 30 stamps for the 30th Olympiad and London 2012 Paralympic Games. Each stamp will champion an Olympic or Paralympic sport and they are issued in three sets of ten stamps in 2009, 2010 and 2011, counting down to the Olympic Games.

The new issue is the second set in this series, subtitled 'On Track for 2012', it contains a new set of ten dynamic images is issued exactly two years before the opening ceremony of the London 2012 Olympic Games.

The stamps are printed in two sheets, each bearing se-tenant strips of five stamps.
Stamp design and background
In all, 29 different sports are played across the Olympic Games and Paralympic Games. There will be one stamp design for each sport with the exception of athletics which will be presented across two stamps as 'Athletics: track' and 'Athletics: field'.

The 30 sporting areas were divided into three sets of ten to ensure a balance of team and individual events, and Olympic and Paralympic sports for each year of issue. Great care was also taken to ensure that a balance of ball and water sports was maintained across the three stamp issues.

Royal Mail's design team and David Hillman, from Studio David Hillman, set to work allocating each sport to one of the hand-picked image makers he approached to work on this three-year project.

Royal Mail also consulted with the sports' governing bodies and specialist clubs for each and every stamp.

Each stamp will feature either the London 2012 Olympic Games or Paralympic Games logo.
Product portfolio
The ten stamps are printed on two se-tenant sheets. Each individual design is therefore available in vertical strips of five.


Presentation Pack M20 – Olympic and Paralympic Games
The fully illustrated Presentation Pack contains the ten Olympic and Paralympic Games stamps.
Inside former Daily Mail sports news editor Ian Cole takes a look at each of the sports featured.
The pack was designed by GBH and printed by Walsall Security Printers.


Stamp Cards
Ten postcards bearing enlarged images of each of the Olympic and Paralympic Games stamps go on sale about a week before the stamp issue date. Printed by Fulmar Colour Printing Company Ltd.


Retail Stamp Book
The first of two retail stamp books to be issued in 2010 featuring stamps from this issue, the stamps selected are rowing and table tennis alongside four 1st Class Machins. A further retail stamp book will be issued on 12 October featuring soccer and BMX biking.


Commemorative Sheet
The Commemorative Sheet features all ten Olympic and Paralympic Games stamps alongside labels containing information about each sport. Designed by True North and written by Richard Rae, the Sheet features interviews with Olympic and Paralympic hopefuls, including goalball players Michael and Anna Sharkey.


Mint Stamps - Technical Details:
| Feature | Type/Detail |
| --- | --- |
| Number of stamps | Ten |
| Design | Studio David Hillman |
| Illustration | Rowing: Marian Hill; Shooting: David Hillman; Modern Pentathlon. Katherine Baxter; Taekwondo: James Fryer; Cycling: Matthew Dennis, Table Tennis: Michael Craig Martin; Hockey: Darren Hopes; Football Alex Williamson; Goalball: Tobatron, Boxing Stephen Ledwidge |
| Stamp format | Square |
| Stamp size | 35mm x 35mm |
| Printer | Cartor Security Printing |
| Print process | Lithography |
| Number per sheet | 25/50 |
| Perforations | 14.5 x 14.5 |
| Phosphor | All over |
| Gum | PVA |
Stamp Book – Technical details:
| Feature | Type/Detail |
| --- | --- |
| Stamps | 1 x 1st Rowing 1 x 1st Table Tennis 4 x 1st Machin |
| Printer | Walsall Security Printers |
| Print process | Gravure |
Text © reproduced with the permission of Royal Mail Group Ltd. All rights reserved.