Smilers: Miniature Sheet Stamps
These Royal Mail stamps were affixed to specially designed envelopes and postmarked on the first day that the stamps were issued.
26.01.2010 | Air Mail Poster, Postmarked at Malvern
BUY NOW   £60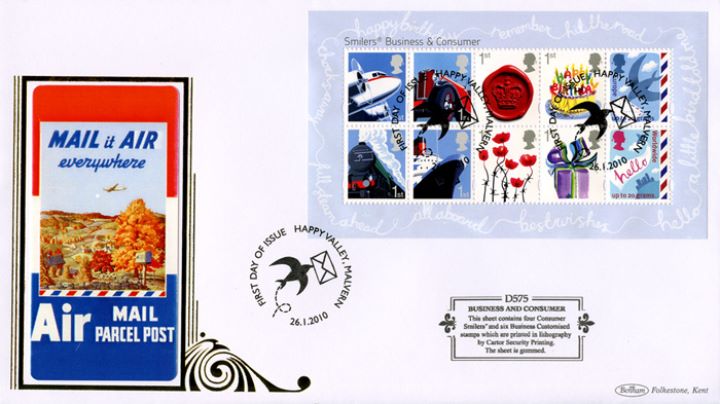 Click on image for larger view
Why not take a look at other items on a similar theme?
Royal Mail provided background information for this issue
click on titles to view details.
Reason and inspiration
To refresh the existing range available for customisation, Royal Mail has created an additional four Consumer and six Business Smilers® stamps.
Consumer Smilers® – four stamps
Among the most popular occasions for sending greetings are birthdays so there are two new designs illustrating a birthday cake and a gift.

And to extend the service to cover overseas greetings, Royal Mail have included two new airmail values for Europe and Worldwide, which explored a generic 'hello' and greeting concept.

These four stamps will only appear together on the Miniature Sheet, and their long term use is for Smilers® sheets.
Business Customised – six stamps
Following research with our philatelic business customers we selected six new subjects to extend this service into the key thematic areas of rail transport, vehicle transport, air travel, sea travel, royalty and remembrance.
Stamp design and background
With diverse subjects and equally diverse customer base, Royal Mail sought different styles for the different subjects.

For the Consumer Smilers®Royal Mail used two illustrators: Annabel Wright (birthday, gift) and Lucy Davey (overseas stamps). Andrew Davidson was used for all four of the transport stamps on the Business Smilers.

The Business Smilers® were completed by Hat-trick Design who created a new version of their commemorative poppy from the 'Lest We Forget' stamp of 2006 (suitable for customised sheets with a military or remembrance theme), and worked with master craftsman Neil Oliver to create the Royal Crown Seal design (relevant for Royal themed business sheets, for example).

Hat-trick also worked with Lucy Davey, to produce a simple but cohesive design to bring all ten subjects together on the Miniature Sheet.
Stamp by stamp
1st Class – Aeroplane
Andrew Davidson's style is reminiscent of classic poster designs from a time when travel was more exotic. Air travel features a nostalgic illustration of a propeller-driven plane.
1st Class – Car
A vintage sports roadster illustrated by Andrew Davidson, again playing on the romance and nostalgia of both the style and the subject.
1st Class – Royal Crown Seal
Hat-trick commissioned a hand crafted seal of a crown, for this stamp. Working with master craftsman Neil Oliver, he used traditional methods to create a seal of the St Edward's crown. This was then specially photographed by John Ross to display the detail and depth needed for the stamp.
1st Class – Birthday Cake
The illustrator Annabel Wright works with coloured ink and wash illustrations, and created many versions before perfecting this vibrant birthday cake.
1st Class – Train
A nod back to the glory days of steam travel by Andrew Davidson
1st Class – Ocean Liner
Andrew Davidson evokes the romance of sea travel
1st Class – Poppies with barbed wire stems
Hat-trick sensitively reformatted their popular design for 'Lest We Forget' 2006 stamp; simplifying and re-cropping the iconic image of the red poppy with barbed wire stems, to create a new and perfectly formed smaller format version.
1st Class – Present
The translucency and vibrant colours of the inks were a challenge to maintain through to print, but this contemporary design should have a universal appeal, perfect for birthdays and other occasions.
Worldwide up to 20 grams – Plane with Hello banner
Lucy Davey once more plays upon the iconography of Air Mail with this illustration of a plane with the word Hello written on the banner.
European Rate up to 20 grams – Bird carrying letter
Playing on the visual language of Air Letters, a bird carries an envelope in its beak in this illustration by Lucy Davey. Her muted colour pallet and 1950s prints influence, brings a timeless charm.
Portfolio
Miniature Sheet
The Miniature Sheet contains all the Smilers® Business and Consumer 2010 stamps contained within a decorative border illustrated by Lucy Davey and designed by Hat-trick.
Presentation Pack No. M19
The Presentation Pack has been designed by Hat-trick Design and features illustration by Lucy Davey.
Stamp Cards
A set of eleven Stamp Cards featuring blown up images of the stamps plus the Miniature Sheet will be issued about a week before the stamp issue.
Generic Sheet
The Generic Sheet is self-adhesive and will feature all ten stamps. Editorial border and label design was by Lucy Davey, who has taken an editorial approach to the sheets design with sayings and messages relevant to each stamp.
Miniature Sheet – Technical Details:
| Feature | Type/Detail |
| --- | --- |
| Number of stamps | Ten |
| Size of Sheet | 124mm(w) x 71 mm(h) |
| Stamp acknowledgements | Aeroplane, Car, Train and Ocean Liner illustrated by Andrew Davidson; Royal Crown Seal designed by Hat-trick; Birthday Cake and Present illustrated by Annabel Wright; Bird and Hello illustrated by Lucy Davey; Poppies designed by Hat-trick Design |
| Stamp format | Portrait |
| Stamp size | 20mm x 24mm |
| Printer | Cartor Security Printing |
| Print process | Lithography |
| Number per sheet | 10 |
| Perforations | 15 x 14 |
| Phosphor | Two bars |
| Gum | PVA |
Text © reproduced with the permission of Royal Mail Group Ltd. All rights reserved.