History of the Penny Black
34062 | 15.03.2010 |
£125
BUY NOW
Printed by Royal Mail. Designed by Adrian Bradbury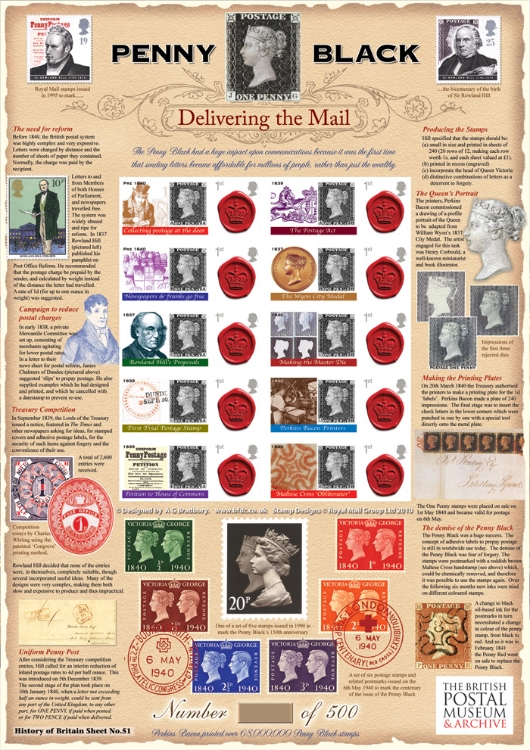 Click on image for larger view
Issue:
History of the Penny Black Stamp Sheet (Smilers®)
The sheet is limited to 500 numbered copies.
The British Postal Museum & Archive (BPMA) is delighted to be working with Adrian Bradbury on this second stamp sheet in the series, Delivering the Mail .
The BPMA,
www.postalheritage.org.uk
, cares for visual, physical and written records of over 400 years of postal heritage, and Adrian is also kindly supporting the BPMA s charitable aims through the sales of this stamp sheet.
The Penny Black was the world s first adhesive postage stamp. It was introduced in Britain in 1840 as a result of widespread calls for postal reform and it marked a turning point in British social history. The Penny Black had a huge impact upon communications because it was the first time that sending letters became affordable for millions of people, rather than just the wealthy.
The postal service was extremely expensive because of a number of factors, including the fact that the government deliberately used postage as a tax system. Also, the cost of sending a letter was based on the distance the letter had travelled and the number of sheets of paper it contained. Unlike our present system, letters usually had to be paid for by the recipient. This high cost meant that it was difficult for ordinary people to write regularly to each other.
Many people were unable to read or write because there was no national education system until the 1870 Education Act. This lack of literacy was a serious problem since Britain was experiencing mass industrialisation and urbanisation, with many people moving from the countryside to the towns and cities to work in factories.
It was difficult for families living far apart to communicate with each other, especially since the cost of sending a letter was a significant part of the weekly wage. For example, the cost of sending a letter from London to Edinburgh was one shilling and one pence, while a loaf of bread would have cost one pence.
Rowland Hill, a teacher and inventor, decided to act upon the growing demands for changes to the postal system. In 1837 he wrote a pamphlet calling for reform and in August 1839 his proposal for uniform penny postage became law, and Hill was put in charge of making it happen. One of the first things Hill did was organise a public competition - run by the government Treasury department - to suggest the best ways to implement this idea of prepaid post. The Treasury Competition had over 2,600 entries with different suggestions including stamps, seals and envelopes. Up until this point there had been no postage stamps in existence, anywhere in the world. There were many different ideas and designs for stamps. No one entry was the overall winner but Rowland Hill took different ideas to come up with the design for the Penny Black stamp. It was based on an engraving of Queen Victoria when she was fifteen.
The introduction of Uniform Penny Postage was introduced in January 1840 and the stamps went on sale in May 1840. The Penny Black could be used on any letter that weighed less than half an ounce (about 14g), regardless of the number of sheets of paper. Letter scales started to be used in people s homes because people needed to check that their letter weighed less than half an ounce. This change also led to the widespread use of the envelope, which had previously not been popular because they added to the number of sheets in a letter, and so to the cost. Using envelopes meant that letters could become more private.
By the middle of May 1840 over 600,000 stamps were being printed a day. These stamps were distributed to post offices in sheets of 240 and then had to be cut by hand with scissors. Perforated stamps like we know today did not appear for several years. On a sheet of stamps, there were 12 stamps to a row (the number of pennies to a shilling). There were 20 rows on each sheet (the number of shillings in a pound). Each sheet of Penny Blacks was worth one pound.
The inventors and supporters of the Penny Black were very concerned about the threat of forgery. This influenced the type of design that was chosen for the stamp. The portrait of Queen Victoria was chosen because people thought it would be easier to detect a forgery of such a famous person. In addition, the stamps had special check letters and watermarks, all designed to stop people from gluing two halves of different stamps together. Stamps were cancelled using a "Maltese Cross cancellation mark"
Check letters were introduced to prevent forgery. Each row had a different letter in the lower left hand corner. The letter along the row stayed the same. Each column had its own check letter in the lower right hand corner that stayed the same. The Rainbow Trials took place shortly after the Penny Black was introduced in 1840. Rowland Hill and other Post Office officials were worried that the cancellation marks could be removed with water or different types of chemicals. This led them to try many different types and colours of ink which is why they were called the 'Rainbow Trials'. They were particularly interested in 'fugitive' inks, meaning inks which ran when liquid was applied to them. As a result of these trials the colour of the Penny Black was changed to red in 1841. This was because the only cancellation ink that worked was black, and this would not be effective on a black stamp.
Text courtesy BPMA