Post Early for Christmas
35856 | 19.10.2010 |
£29.99
BUY NOW
Printed by Royal Mail. Designed by Adrian Bradbury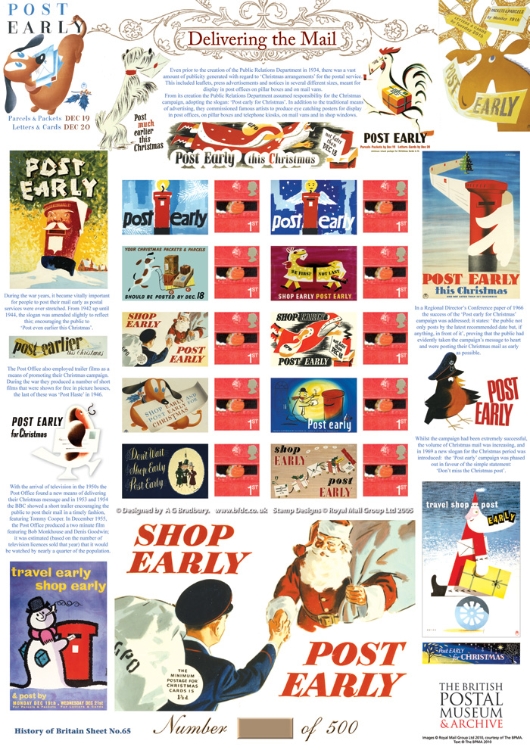 Click on image for larger view
Issue:
Post Early for Christmas Stamp Sheet (Smilers®)
The sheet is limited to 500 numbered copies.
The fourth stamp sheet in the series 'Delivering the Mails' produced in association with the British Postal Museum & Archive I have given a percentage of the proceeds from the sales of this sheet totalling £2,000 to the BPMA to support their charitable educational work.
The BPMA, www.postalheritage.org.uk, cares for visual, physical and written records of over 400 years of postal heritage, and Adrian is also kindly supporting the BPMA s charitable aims through the sales of this stamp sheet.


Even prior to the creation of the Public Relations Department in 1934, there was a vast amount of publicity generated with regard to Christmas arrangements for the postal service. This included leaflets, press advertisements and notices in several different sizes, meant for display in post offices, on pillar boxes and on mail vans.
From its creation the Public Relations Department assumed responsibility for the Christmas campaign, adopting the slogan: Post early for Christmas . In addition to the traditional means of advertising, they commissioned famous artists to produce eye catching posters for display in post offices, on pillar boxes and telephone kiosks, on mail vans and in shop windows.

During the war years, it became vitally important for people to post their mail early as postal services were over stretched. From 1942 up until 1944, the slogan was amended slightly to reflect this; encouraging the public to Post even earlier this Christmas .

Post Office also employed trailer films as a means of promoting their Christmas campaign. During the war they produced a number of short films that were shown for free in picture houses, the last of these was Post Haste in 1946.
With the arrival of television in the 1950s the Post Office found a new means of delivering their Christmas message and in 1953 and 1954 the BBC showed a short trailer encouraging the public to post their mail in a timely fashion, featuring Tommy Cooper. In December 1955, the Post Office produced a two minute film featuring Bob Monkhouse and Denis Goodwin; it was estimated (based on the number of television licences sold that year) that it would be watched by nearly a quarter of the population.

In a Regional Director s Conference paper of 1966 the success of the Post early for Christmas campaign was addressed; it states: the public not only posts by the latest recommended date but, if anything, in front of it , proving that the public had evidently taken the campaign s message to heart and were posting their Christmas mail as early as possible.

Whilst the campaign had been extremely successful, the volume of Christmas mail was increasing, and in 1969 a new slogan for the Christmas period was introduced: the Post early campaign was phased out in favour of the simple statement: Don t miss the Christmas post .

Text courtesy of the British Postal Museum Archive.