Queen Anne
35174 | 01.10.2010 |
£25
BUY NOW
Printed by Royal Mail. Designed by Adrian Bradbury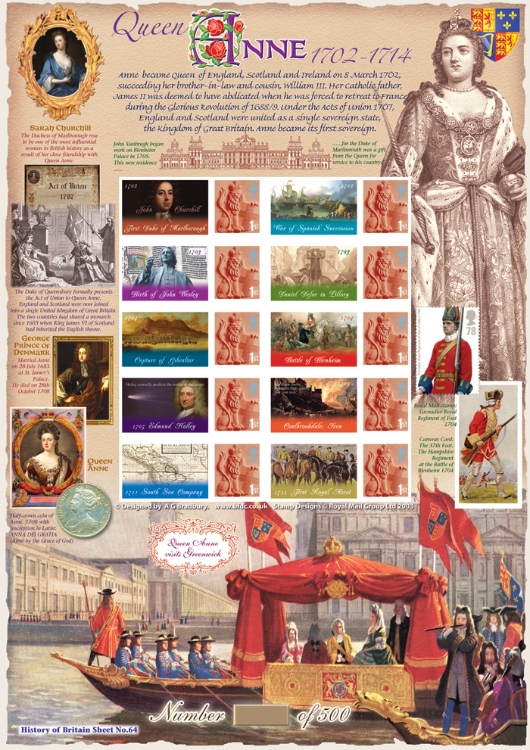 Click on image for larger view
Issue:
Queen Anne Stamp Sheet (Smilers®)
The sheet is limited to 500 numbered copies.
Anne became Queen monarch of England, Scotland and Ireland on 8 March 1702, succeeding her brother-in-law and cousin, William III. Her Catholic father, James II, was deemed by the English Parliament to have abdicated when he was forced to retreat to France during the Glorious Revolution of 1688/9; her brother-in-law and her sister then became joint monarchs as William III & II and Mary II. After Mary's death in 1694, William continued as sole monarch until his own death in 1702.
On 1 May 1707, under the Acts of Union 1707, England and Scotland were united as a single sovereign state, the Kingdom of Great Britain. Anne became its first sovereign, while continuing to hold the separate crown of Queen of Ireland and the title of Queen of France. Anne reigned for twelve years until her death in August 1714. Therefore she was, technically, the last Queen of England and the last Queen of Scots.
Anne's life was marked by many crises, both personally and relating to succession of the Crown and religious polarisation. Because she died without surviving children, Anne was the last monarch of the House of Stuart. She was succeeded by her second cousin, George I, of the House of Hanover, who was a descendant of the Stuarts through his maternal grandmother, Elizabeth, daughter of James I.