William & Mary
35173 | 01.10.2010 |
£25
BUY NOW
Printed by Royal Mail. Designed by Adrian Bradbury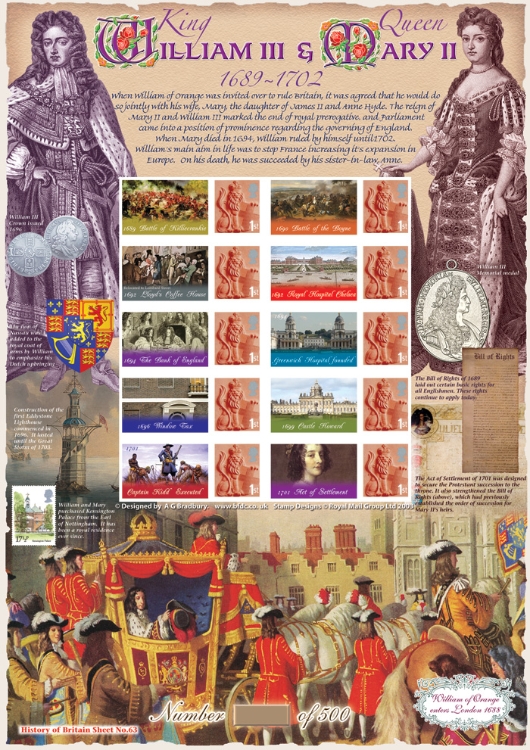 Click on image for larger view
Issue:
William & Mary Stamp Sheet (Smilers®)
The sheet is limited to 500 numbered copies.
William and Mary's joint reign began in February 1689, when they were called to the throne by Parliament, replacing James II, Mary's father and William's uncle, who was "deemed to have fled" the country in the Glorious Revolution of 1688. After Mary died in 1694, William ruled alone until his death in 1702. Their rule was the only period in British history in which "joint sovereigns" with equal powers were allowed to reign. William and Mary were childless and were ultimately succeeded by Mary's younger sister, Anne.
To end the Glorious Revolution, William and Mary signed the English Bill of Rights, and began a new co-operation between the Parliament and the monarchs, leading to a greater measure of personal liberty and democracy in Britain. This action both signaled the end of several centuries of tension and conflict between the English crown and parliament, and the end of the idea that England would be restored to Roman Catholicism, King William being a Protestant leader.

Text courtesy of Wikipedia