1st UK Aerial Post
37011 | 10.06.2011 |
£39.99
BUY NOW
Printed by Royal Mail. Designed by Adrian Bradbury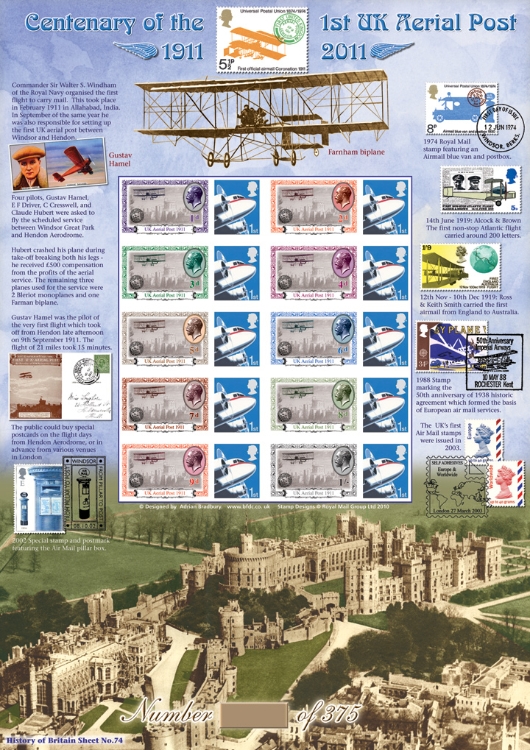 Click on image for larger view
Issue:
1st UK Aerial Post Stamp Sheet (Smilers®)
The sheet is limited to 375 numbered copies.
Commander Sir Walter S. Windham of the Royal Navy organised the first flight to carry mail. This took place in February 1911 in Allahabad, India. In September of the same year he was also responsible for setting up the first UK aerial post between Windsor and Hendon.
Four pilots, Gustav Hamel, E F Driver, C Cresswell, and Claude Hubert were asked to fly the scheduled service between Windsor Great Park and Hendon Aerodrome.
Hubert crashed his plane during take-off breaking both his legs - he received £500 compensation from the profits of the aerial service. The remaining three planes used for the service were 2 Bleriot monoplanes and one Farman biplane.
Gustav Hamel was the pilot of the very first flight which took off from Hendon late afternoon on 9th September 1911. The flight of 21 miles took 15 minutes.
The public could buy special postcards on the flight days from Hendon Aerodrome, or in advance from various venues in London.