Arnold Machin Centenary
36718 | 16.07.2011 |
£49.99
BUY NOW
Printed by Royal Mail. Designed by Adrian Bradbury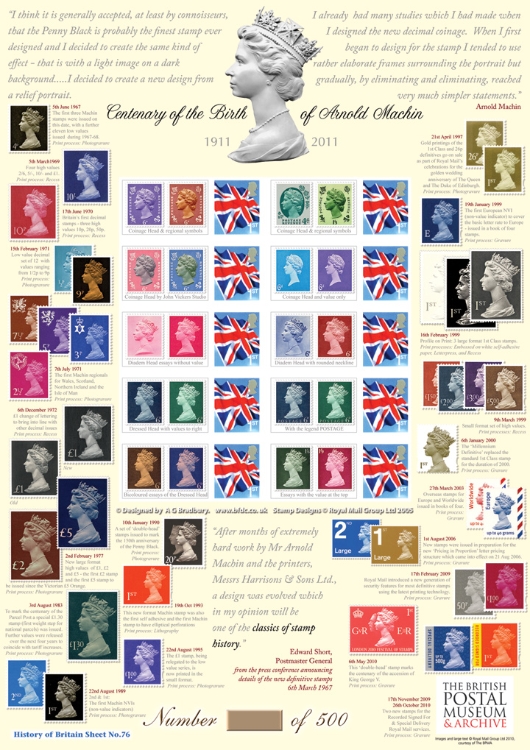 Click on image for larger view
Issue:
Arnold Machin Centenary Stamp Sheet (Smilers®)
The sheet is limited to 500 numbered copies.
The sixth stamp sheet produced in association with the British Postal Museum & Archive I have given (up front) a percentage of the proceeds from the sales of this sheet totalling £2,000 to the BPMA to support their charitable educational work.
The BPMA, www.postalheritage.org.uk, cares for visual, physical and written records of over 400 years of postal heritage, and Adrian is also kindly supporting the BPMA s charitable aims through the sales of this stamp sheet.

The images on the stamp labels show how the Machin definitive evolved, carefully researched with the help of the BPMA. The sheet border shows the Machin head as it appears in various postage stamp formats from the first issue in 1967 to the latest security printings.
Arnold Machin was born in Stoke-on-Trent in 1911. He started work at the age of 14 as an apprentice china painter at the Minton Pottery. In 1946 he was elected an associate member of theRoyal Academy, was appointed a Master of Sculpture from 1959 to 1966 and became the longest-serving member of the Academy. He was elected an Academician in 1956 and a Fellow of the Royal Society of British Sculptors. From 1951 he was a tutor at the Royal College of Art..
In 1964 Machin was chosen to design a new effigy of the Queen for the decimal coinage, which was to be introduced from 1968; this effigy was used for all British coins until 1984. In 1966 the Queen approved Machin's similar design for an effigy of her to be used on what came to be known as the "Machin series" of British definitive postage stamps. Machin produced a bas-relief in clay, which when combined with a different coloured background, is reminiscent of the overlaid decoration of potteries such as Wedgwood. The design was first used on the 4d value which was issued in June 1967, and has been used on all British definitive stamps ever since. It is thought that this design is the most reproduced work of art in history.