British Empire Exhibition
36719 | 15.09.2011 |
£49.75
BUY NOW
Printed by Royal Mail. Designed by Adrian Bradbury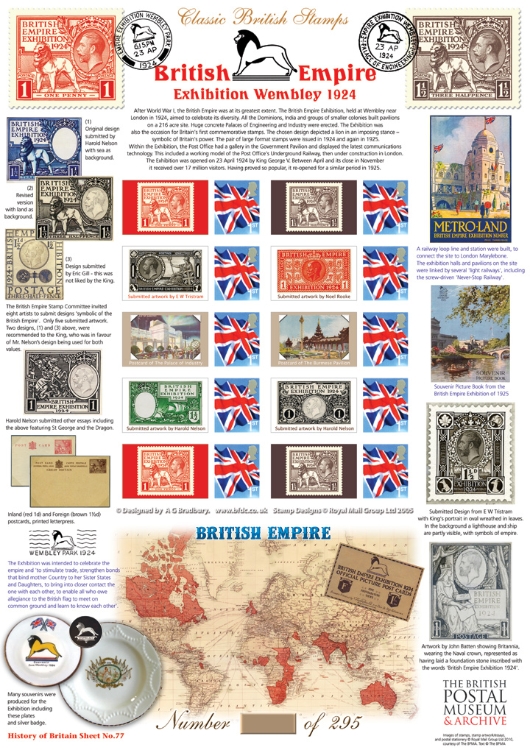 Click on image for larger view
Issue:
British Empire Exhibition Stamp Sheet (Smilers®)
The sheet is limited to 295 numbered copies.
The seventh stamp sheet produced in association with the British Postal Museum & Archive I have given a percentage of the proceeds from the sales of this sheet totalling £2,000 to the BPMA to support their charitable educational work.
The BPMA, www.postalheritage.org.uk, cares for visual, physical and written records of over 400 years of postal heritage, and Adrian is also kindly supporting the BPMA s charitable aims through the sales of this stamp sheet.


After World War I, the British Empire was at its greatest extent. The British Empire Exhibition, held at Wembley near London in 1924, aimed to celebrate its diversity. All the Dominions, India and groups of smaller colonies built pavilions on a 216 acre site. Huge concrete Palaces of Engineering and Industry were erected. The Exhibition was also the occasion for Britain's first commemorative stamps. The chosen design depicted a lion in an imposing stance symbolic of Britain's power. The pair of large format stamps were issued in 1924 and again in 1925. Within the Exhibition, the Post Office had a gallery in the Government Pavilion and displayed the latest communications technology. This included a working model of the Post Office's Underground Railway, then under construction in London. The Exhibition was opened on 23 April 1924 by King George V. Between April and its close in November it received over 17 million visitors. Having proved so popular, it re-opened for a similar period in 1925.
The Exhibition was intended to celebrate the empire and 'to stimulate trade, strengthen bonds that bind mother Country to her Sister States and Daughters, to bring into closer contact the one with each other, to enable all who owe allegiance to the British flag to meet on common ground and learn to know each other'.
A railway loop line and station were built, to connect the site to London Marylebone. The exhibition halls and pavilions on the site were linked by several 'light railways', including the screw-driven 'Never-Stop Railway'.