Festival of Britain
36717 | 29.03.2011 |
£49.99
BUY NOW
Printed by Royal Mail. Designed by Adrian Bradbury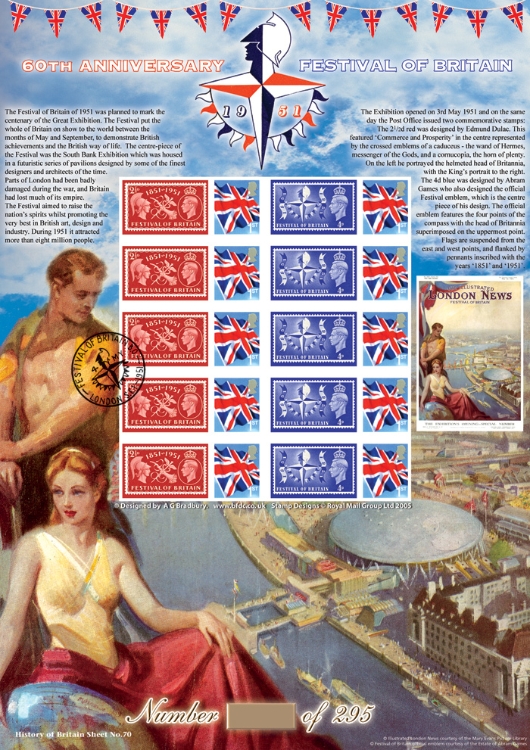 Click on image for larger view
Issue:
Festival of Britain Stamp Sheet (Smilers®)
The sheet is limited to 295 numbered copies.
The Festival of Britain of 1951 was planned to mark the centenary of the Great Exhibition of 1851. The Festival put the whole of Britain on show to the world between the months of May and September, to demonstrate British achievements and the British way of life. The centre-piece of the Festival was the South Bank Exhibition which was housed in a futuristic series of pavilions designed by some of the finest designers and architects of the time. Parts of London had been badly damaged during the war, and Britain had lost much of its empire. The Festival aimed to raise the nation s spirits whilst promoting the very best in British art, design and industry. During 1951 it attracted more than eight million people.
The Exhibition opened on 3rd May 1951 and on the same day the Post Office issued two commemorative stamps: The 2 1/2d red was designed by Edmund Dulac. This featured Commerce and Prosperity in the centre represented by the crossed emblems of a caduceus - the wand of Hermes, messenger of the Gods, and a cornucopia, the horn of plenty. On the left he portrayed the helmeted head of Britannia, with the King s portrait to the right. The 4d blue was designed by Abram Games who also designed the official Festival emblem, which is the centre piece of his design. The official emblem features the four points of the compass with the head of Britannia superimposed on the uppermost point. Flags are suspended from the east and west points, and flanked by pennants inscribed with the years 1851 and 1951 .