George I
36714 | 10.08.2011 |
£25
BUY NOW
Printed by Royal Mail. Designed by Adrian Bradbury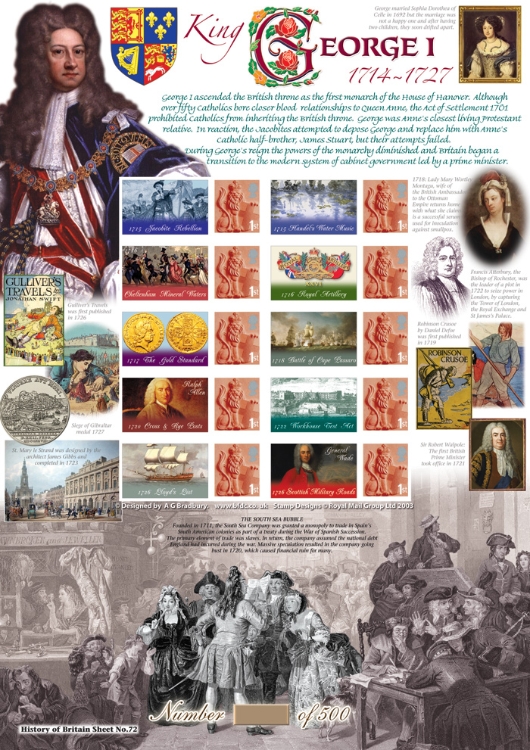 Click on image for larger view
Issue:
George I Stamp Sheet (Smilers®)
The sheet is limited to 500 numbered copies.
At the age of 54, after the death of Queen Anne, George I ascended the British throne as the first monarch of the House of Hanover. Although over fifty Catholics bore closer blood relationships to Anne, the Act of Settlement of 1701 prohibited Catholics from inheriting the British throne. George, however, was Anne's closest living Protestant relative. In reaction, the Jacobites attempted to depose George and replace him with Anne's Catholic half-brother, James Stewart, but their attempts failed.
During George's reign the powers of the monarchy diminished and Britain began a transition to the modern system of cabinet government led by a prime minister. Towards the end of his reign, actual power was held by Sir Robert Walpole, Great Britain's first de facto prime minister. George died in 1727 on a trip to his native Hanover, where he was buried.

Text courtesy of Wikipedia
Please note that this is the first of six sheets for the six Hanoverian monarchs.