The White Lion Society
35857 | 01.11.2010 |
£30
BUY NOW
Printed by Royal Mail. Designed by Adrian Bradbury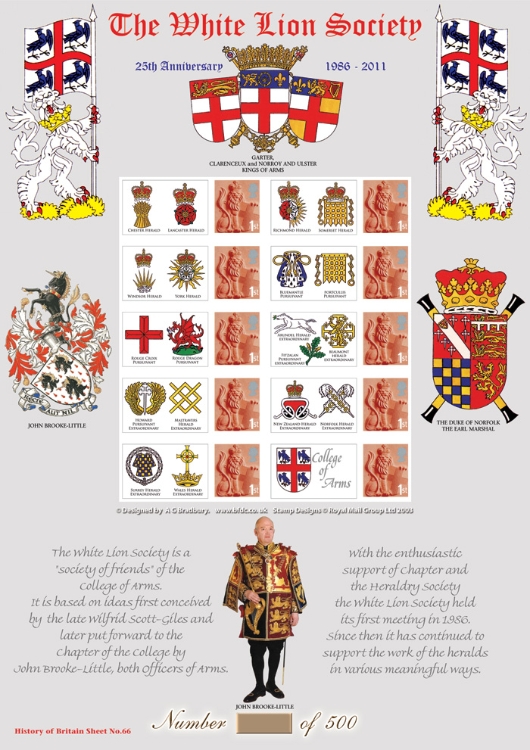 Click on image for larger view
Issue:
The White Lion Society Stamp Sheet (Smilers®)
The sheet is limited to 500 numbered copies.
The White Lion Society is a "society of friends" of the College of Arms. It is based on ideas first conceived by the late Wilfrid Scott-Giles and later put forward to the Chapter of the College by John Brooke-Little, both Officers of Arms. With the enthusiastic support of Chapter and the Heraldry Society the White Lion Society held its first meeting in 1986. Since then it has continued to support the work of the heralds in various meaningful ways.
To celebrate the Society's Silver Jubilee in 2011, a special, limited edition sheet of postage stamps (using the Lion of England definitive issue) has been produced which feature the arms and badges of all the Kings of Arms, Heralds, Pursuivants and Extraordinaries at The College of Arms. The sheet also displays Anthony Wood's painting of the arms of our founder, John Brooke-Little, together with a picture of him dressed in his tabard as Norroy and Ulster King of Arms. The arms of our President, The Duke of Norfolk, are also shown, together with the badge of the Society. It is hoped that this will be a colourful souvenir for members of this special year in the Society's history.