Year of the Three Kings
36712 | 17.02.2011 |
£45
BUY NOW
Printed by Royal Mail. Designed by Adrian Bradbury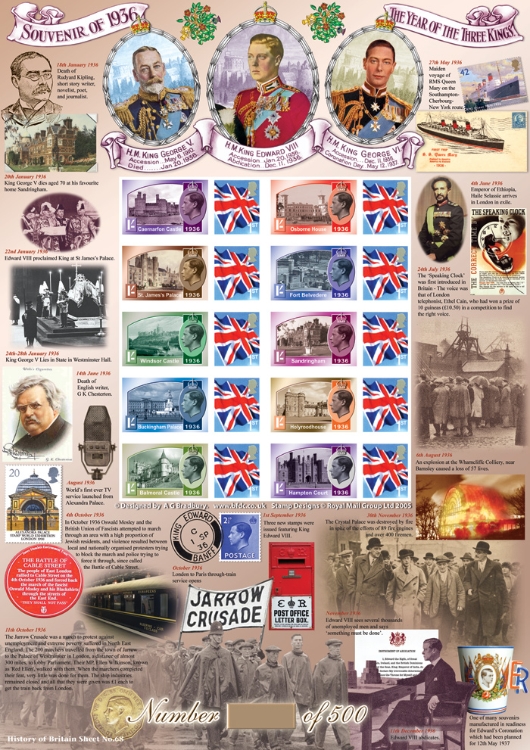 Click on image for larger view
Issue:
Year of the Three Kings Stamp Sheet (Smilers®)
The sheet is limited to 500 numbered copies.
This sheet is a souvenir of the year of 1936 - the year that Britain had three Kings.
King Edward VIII acceded to the throne on death of his father King George V on 20th January 1936. Edward caused a constitutional crisis by proposing marriage to the American divorcée Wallis Simpson, who would not have been acceptable as Queen. Edward, forced to choose between the Crown and Mrs Simpson, abdicated on 11th December of the same year, when his younger brother, took over the role of king as George VI. This stamp sheet is a souvenir of the Year of the Three Kings , and depicts major events which took place during the year. These range from the Jarrow Crusade to the launch of RMS Queen Mary, the introduction of the first speaking clock to the destruction of Crystal Palace by fire. The ten stamp labels depict royal palaces and castles in the style of 1930s stamp designs.
The Death of King George V

Upon the death of King George V on 20th January 1936, King Edward VIII accceeded to the throne, his coronation being planned for the May of the following year. Whilst George V had been a popular monarch, there was a general feeling that it was time for a change and the late King's eldest son was considered to take a more populist and modern approach towards the role of the monarchy and was regarded more of a Prince of the People.

The Reign of King Edward VIII

Whilst Edward's relationship with twice married and once divorced Wallis Simpson was rarely reported in the British press, it was frequently reported abroad. Stanley Baldwin, the Prime Minister, urged the King to consider the constitutional problems of continuing the relationship with Wallis Simpson. The Church also made it clear that it was opposed to the King's relationship. However, although this was a scandal and a constitutional concern, the problem was not insurmountable.

It was Edward's own political views which turned the problem into a crisis. In 1934 he had suggested that he supported the views of the British Union of Fascists. The government was also aware that Wallis Simpson had been involved in other affairs and was known to hold pro-Nazi political views and was suspected of passing information to the Nazi government. This was a situation which the government could not accept.

The Abdication of Edward VIII

Edward stated to the Prime Minister that either he would marry Wallace Simpson as King, or that he would abdicate and on 10th December 1936, after a reign of only 325 days, the king signed the abdication document which read as follows:-

I, Edward the Eighth of Great Britain, Ireland, and the British Dominions beyond the Seas, King, Emperor of India, do hereby declare my irrevocable determination to renounce the Throne for myself and for my descendants, and my desire that effect should be given to this Instrument of Abdication immediately. In token whereof I have hereunto set my hand this tenth day of December, 1936, in the presence of the witnesses whose signatures are subscribed.
Edward R.I.

The following day, Edward made a radio broadcast telling the nation that he had abdicated because he could not, "discharge the duties of king as I would wish to do without the help and support of the woman I love."

The Accession of George VI

Thus it was that on 11th December 1936 Prince Albert became; 'His most Excellent Majesty George the Sixth, by the Grace of God, of Great Britain, Ireland, and of the British Dominions beyond the seas, King, Defender of the Faith, Emperor of India.'