Boxing - Men's Bantam Weight Stamps
These Royal Mail stamps were affixed to specially designed envelopes and postmarked on the first day that the stamps were issued.
12.08.2012 | Luke Campbell, Postmarked at London
BUY NOW   £20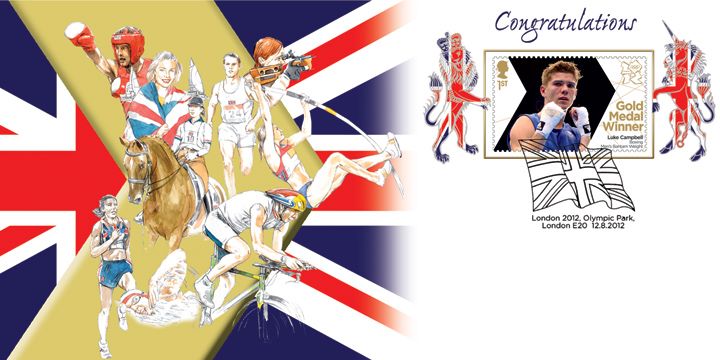 Click on image for larger view
Stamp Details:

6 x 1st Boxing - Men's Bantam Weight
Luke Campbell


Notes:

These covers showcase the official Royal Mail GB Gold Medal Winners postage stamp franked with official Royal Mail first day of issue postmarks. This 28th gold for GB features Boxing - Men s Bantam Weight. So that there is no misunderstanding, the envelope designs are my own creation and are NOT official Olympic sponsored designs - hence the lack of official emblems. I am proud of the fact that I have designed my own first day covers for every Royal Mail stamp issue since 1980. I am very pleased with my designs and I hope you like them too.




Luke Campbell - Exclusive Limited Edition FDCs printed on textured linen paper

Reference Images:
Miniature Sheet
Postmark illustrations

Why not take a look at other items on a similar theme?