George III
38166 | 19.11.2012 |
£25
BUY NOW
Printed by Royal Mail. Designed by Adrian Bradbury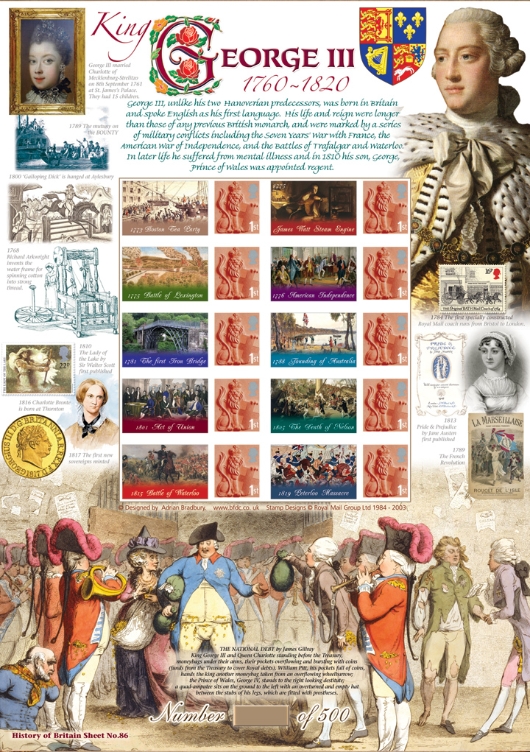 Click on image for larger view
Issue:
George III Stamp Sheet (Smilers®)
The sheet is limited to 500 numbered copies.
George III, unlike his two Hanoverian predecessors, was born in Britain and spoke English as his first language. His life and reign were longer than those of any previous British monarch, and were marked by a series of military conflicts including the Seven Years' War with France, the American War of Independence, and the Battles of Trafalgar and Waterloo. In later life he suffered from mental illness and in 1810 his son, George, Prince of Wales was appointed regent.
The main picture, The National Debt by James Gillray, depicts King George III and Queen Charlotte standing before the Treasury, moneybags under their arms, their pockets overflowing and bursting with coins (funds from the Treasury to cover Royal debts). William Pitt, his pockets full of coins, hands the king another moneybag taken from an overflowing wheelbarrow; the Prince of Wales, (the future George IV), stands to the right looking destitute; a quad-amputee sits on the ground to the left with an overturned and empty hat between the stubs of his legs, which are fitted with prostheses.