Vulcan to the Sky
38167 | 27.06.2012 |
£250
Printed by Royal Mail.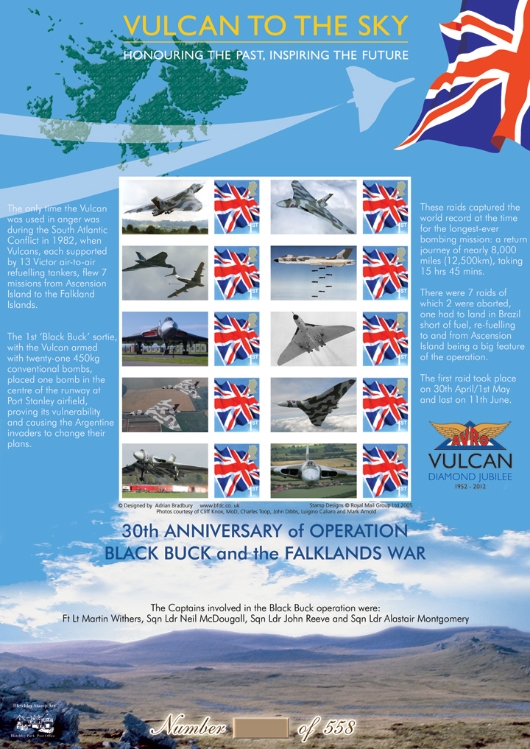 Click on image for larger view
Issue:
Vulcan to the Sky Stamp Sheet (Smilers®)
Producer/Series:
Bletchley Park PO
The sheet is limited to 558 numbered copies.
As the designer of this sheet I was able to obtain a few copies for my regular customers. I did not realise that it would sell out before the issue date. This is limited to one copy per household. This is now a very sought after sheet. NB It is not part of the History of Britain series.
This year (2012) marks the 30th anniversary of the Falklands War and the 60th anniversary of the Avro Vulcan.
The only time the Vulcan was used in anger was during the South Atlantic Conflict in 1982, when Vulcans, each supported by 11 Victor air-to-air refuelling tankers, flew 7 missions from Ascension Island to the Falkland Islands. The 1st Black Buck sortie, with the Vulcan armed with twenty-one 450kg conventional bombs, placed one bomb in the centre of the runway at Port Stanley airfield, proving its vulnerability and causing the Argentine invaders to change their plans.
These raids captured the world record at the time for the longest-ever bombing mission: a return journey of nearly 8,000 miles (12,500km), taking 15 hrs 45 mins. There were 7 raids of which 2 were aborted, one had to land in Brazil short of fuel, re-fuelling to and from Ascension Island being a big feature of the operation. The first raid took place on 30th April/1st May and last on 11th June.