Welcome to the London 2012 Paralympic Games: Miniature Sheet Stamps
These Royal Mail stamps were affixed to specially designed envelopes and postmarked on the first day that the stamps were issued.
29.08.2012 | Union Flag, Postmarked at London
BUY NOW   £50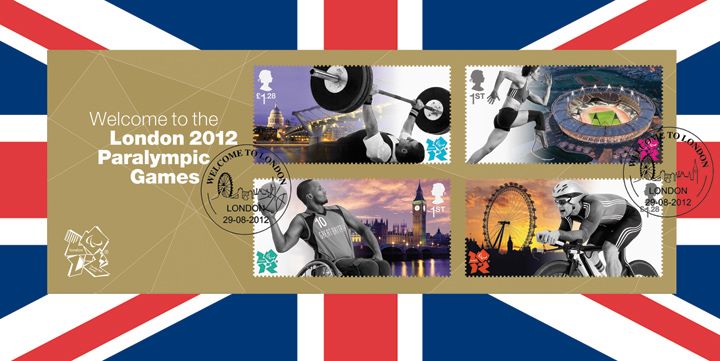 Click on image for larger view
Stamp Details:

1st Athletics
1st Basketball
£1.28 Weight Lifting
£1.28 Cycling


Limited Edition:

200 copies Worldwide.

Notes:

These covers showcase the official Royal Mail Olympic postage stamps which are franked with official Royal Mail postmarks. So that there is no misunderstanding, the envelope designs are my own creation and are NOT official Olympic sponsored designs - hence the lack of official emblems. I am proud of the fact that I have designed my own first day covers for every Royal Mail stamp issue since 1980. I am very pleased with my designs and I hope you like them too.




This exclusive design is printed on the best quality textured linen paper and then hand made into envelopes.

In Stock

Reference Images:
Miniature Sheet
Presentation Pack (475)
PHQCards (368)
Postmark illustrations

Why not take a look at other items on a similar theme?