Doctor Who: Generic Sheet Stamps
These Royal Mail stamps were affixed to specially designed envelopes and postmarked on the first day that the stamps were issued.
26.03.2013 | Sontaran, Postmarked at Cardiff
BUY NOW   £20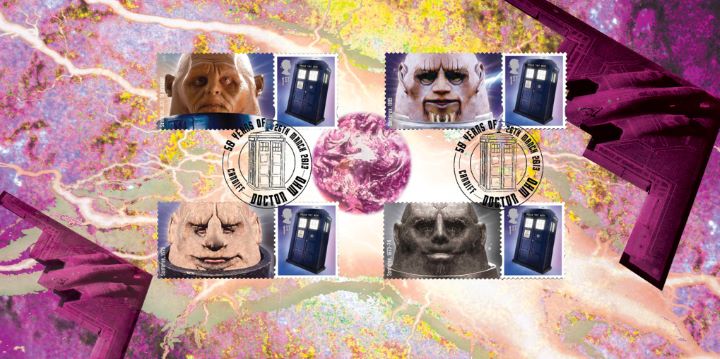 Click on image for larger view
Stamp Details:

1st Doctor Who plus labels

Limited Edition:

100 copies Worldwide.

Notes:

This is part of a set of five covers featuring stamps from the Doctor Who stamp sheet. Each cover features images of five of Doctor Who's adversaries: Cyberman, Dalek, Siluiran & Sea Devil, Sontaran and The Master. The covers follow the same format but are printed in different colours. Buy the set of five and save £20 - see stock Code 39014 - still available




Worldwide Special Limited Edition of just 100 numbered copies printed on the finest linen textured paper.

Stock remaining:

One Left!

Reference Images:
Generic Sheet
Postmark illustrations

Cover is on Offer:
Available in the DoctorWho offer.
Why not take a look at other items on a similar theme?