Coronation Procession
38961 | 06.02.2013 |
£19.99
BUY NOW
Printed by Royal Mail. Designed by Adrian Bradbury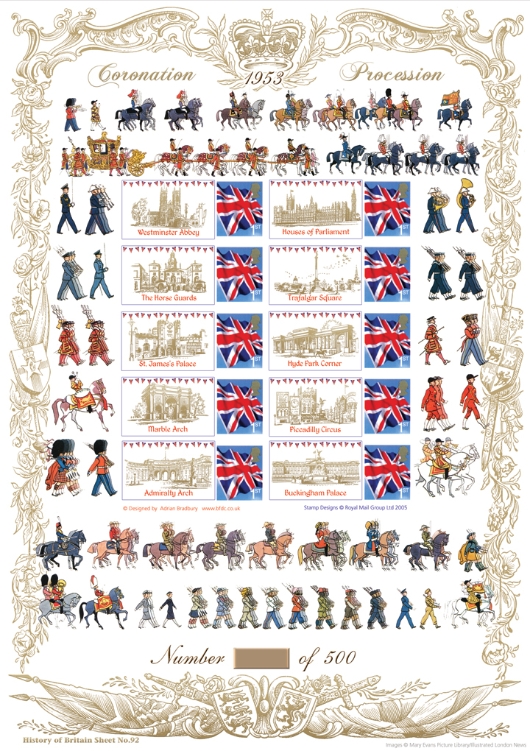 Click on image for larger view
Issue:
Coronation Procession Stamp Sheet (Smilers®)
The sheet is limited to 500 numbered copies.
The Coronation ceremony of Elizabeth II followed a similar pattern to the coronations of the kings and queens before her, being held in Westminster Abbey, and involving the peerage and clergy. However, for the new Queen, several parts of the ceremony were markedly different. The coronation of the Queen was the first ever to be televised and was also the world's first major international event to be broadcast on television. There had been considerable debate within the British Cabinet on the subject, with Prime Minister Winston Churchill against the idea; but, Elizabeth refused her British prime minister's advice on this matter and insisted the event take place before television cameras. The event was aso filmed in colour, separately from the BBC's black and white television broadcast. Millions across Britain watched the coronation live, while, to make sure Canadians could see it on the same day, RAF Canberras flew film of the ceremony across the Atlantic Ocean to be broadcast by the Canadian Broadcasting Corporation, the first non-stop flights between the United Kingdom and the Canadian mainland. In Goose Bay, Labrador, the film was transferred to a Royal Canadian Air Force CF-100 jet fighter for the further trip to Montreal. In all, three such voyages were made as the coronation proceeded.
Along a route lined with sailors, soldiers, and airmen and women from across the Commonwealth, guests and officials passed in a procession before approximately three million spectators gathered in the streets of London, some having camped overnight in their spot to ensure a view of the monarch and others having access to specially built stands and scaffolding along the route. For those not present to witness the event, more than 200 microphones were stationed along the path and in Westminster Abbey, with 750 commentators broadcasting descriptions in 39 languages; more than twenty million viewers around the world watched the coverage.
Military representation from throughout the Commonwealth marched in parade prior to the Queen's arrival.
Text courtesy of Wikipedia