Post Bus in Wales
38981 | 01.04.2013 |
£19.99
BUY NOW
Printed by Royal Mail. Designed by Adrian Bradbury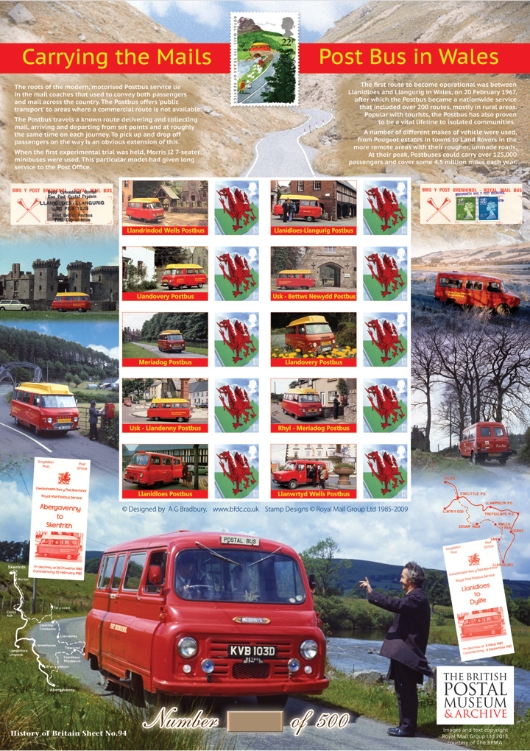 Click on image for larger view
Issue:
Post Bus in Wales Stamp Sheet (Smilers®)
The sheet is limited to 500 numbered copies.
This is the eigth stamp sheet produced in association with the British Postal Museum & Archive I have given a percentage of the proceeds from the sales of this sheet totalling £1,000 to the BPMA to support their charitable educational work. The BPMA cares for visual, physical and written records of over 400 years of postal heritage, and Adrian is also kindly supporting the BPMA's charitable aims through the sales of this stamp sheet.
The roots of the modern, motorised Postbus service lie in the mail coaches that used to convey both passengers and mail across the country. The Postbus offers 'public transport' to areas where a commercial route is not available. The Postbus travels a known route delivering and collecting mail, arriving and departing from set points and at roughly the same time on each journey. To pick up and drop off passengers on the way is an obvious extension of this. When the first experimental trial was held, Morris J2 7-seater minibuses were used. This particular model had given long service to the Post Office.
The first route to become operational was between Llanidloes and Llangurig in Wales, on 20 February 1967, after which the Postbus became a nationwide service that included over 200 routes, mostly in rural areas. Popular with tourists, the Postbus has also proven to be a vital lifeline to isolated communities. A number of different makes of vehicle were used, from Peugeot estates in towns to Land Rovers in the
more remote areas with their rougher, unmade roads. At their peak, Postbuses could carry over 125,000 passengers and cover some 4.5 million miles each year.