The Richard III Society
39166 | 08.07.2013 |
£35
BUY NOW
Printed by Royal Mail. Designed by Adrian Bradbury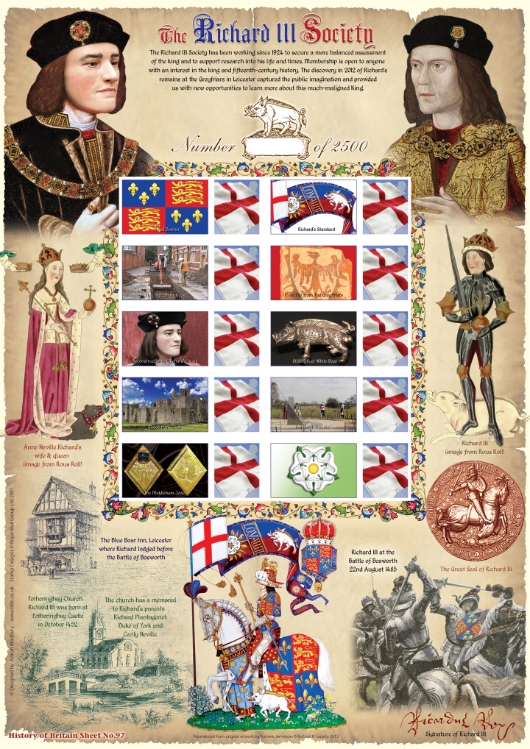 Click on image for larger view
Issue:
The Richard III Society Stamp Sheet (Smilers®)
The sheet is limited to 2500 numbered copies.
The Richard III Society commissioned Adrian Bradbury (BFDC Ltd) to design and market this business customised stamp sheet featuring the discovery of the remains of Richard III in Leicester.
The Richard III Society has been working since 1924 to secure a more balanced assessment of the king and to support research into his life and times. Membership is open to anyone with an interest in the king and fifteenth-century history. The discovery in 2012 of Richard's remains at the Greyfriars in Leicester captured the public imagination and provided us with new opportunities to learn more about this much-maligned King.
The sheet features images from the life and times of King Richard from his birth at Fotheringhay to his death at the Battle of Bosworth. Images include the facial reconstruction of King Richard III, his Great Seal and signature. The ten stamps feature the flag of England which is also included in Richard's Standard.
In addition, at the foot of the stamp sheet I have featured artwork by the Queen's Scribe, Andrew Jamieson, depicting Richard III mounted on his horse, armoured as a warrior, but holding a sceptre denoting his kingship. Richard's armorial bearings are shown on the horse trappings and in his banner, while his crowned shield is surrounded by the Garter. Alongside him runs his white boar, while the grass is powdered with forget-me-nots, white roses for York and broom flowers and pods for the Plantagenets. This illustration was specially commissioned by the Richard III Society and is featured on a new range of merchandise. Please click on this link for more information about The Richard III Society