Christmas 2014: Miniature Sheet Stamps
These Royal Mail stamps were affixed to specially designed envelopes and postmarked on the first day that the stamps were issued.
04.11.2014 | Building a Snowman, Postmarked at Bethlehem
BUY NOW   £45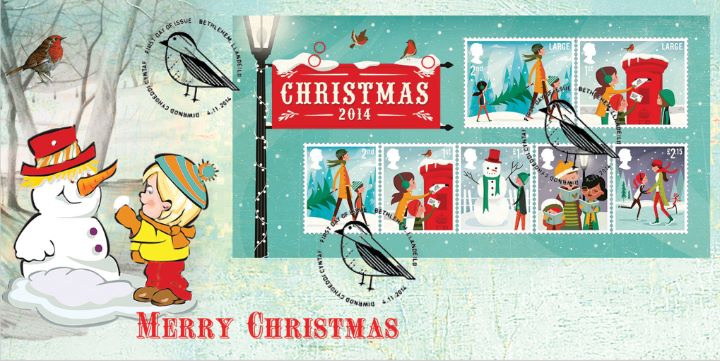 Click on image for larger view
Stamp Details:

2nd Large Christmas Tree
1st Posting Christmas Cards
1st Large Posting Christmas Cards
£1.28 Building a Snowman
£1.47 Carol Singing
£2.15 Ice Skating


Limited Edition:

75 copies Worldwide.

Notes:

These covers are hand made from the finest quality linen textured paper. Royal Mail's Christmas stamps feature secular and religious imagery in alternate years. For the 2014 Christmas stamps, design company True North commissioned the US-based artist and illustrator Andrew Bannecker to create a series of outdoor Christmas scenes. These charming mini tableaux depict various British family traditions – from carol singing and ice skating to posting cards and buying trees. The stamps are
available as part of a miniature sheet, with a gorgeous border also illustrated by Andrew Bannecker.


Reference Images:
Miniature Sheet
PHQCards (395)
Postmark illustrations

Why not take a look at other items on a similar theme?